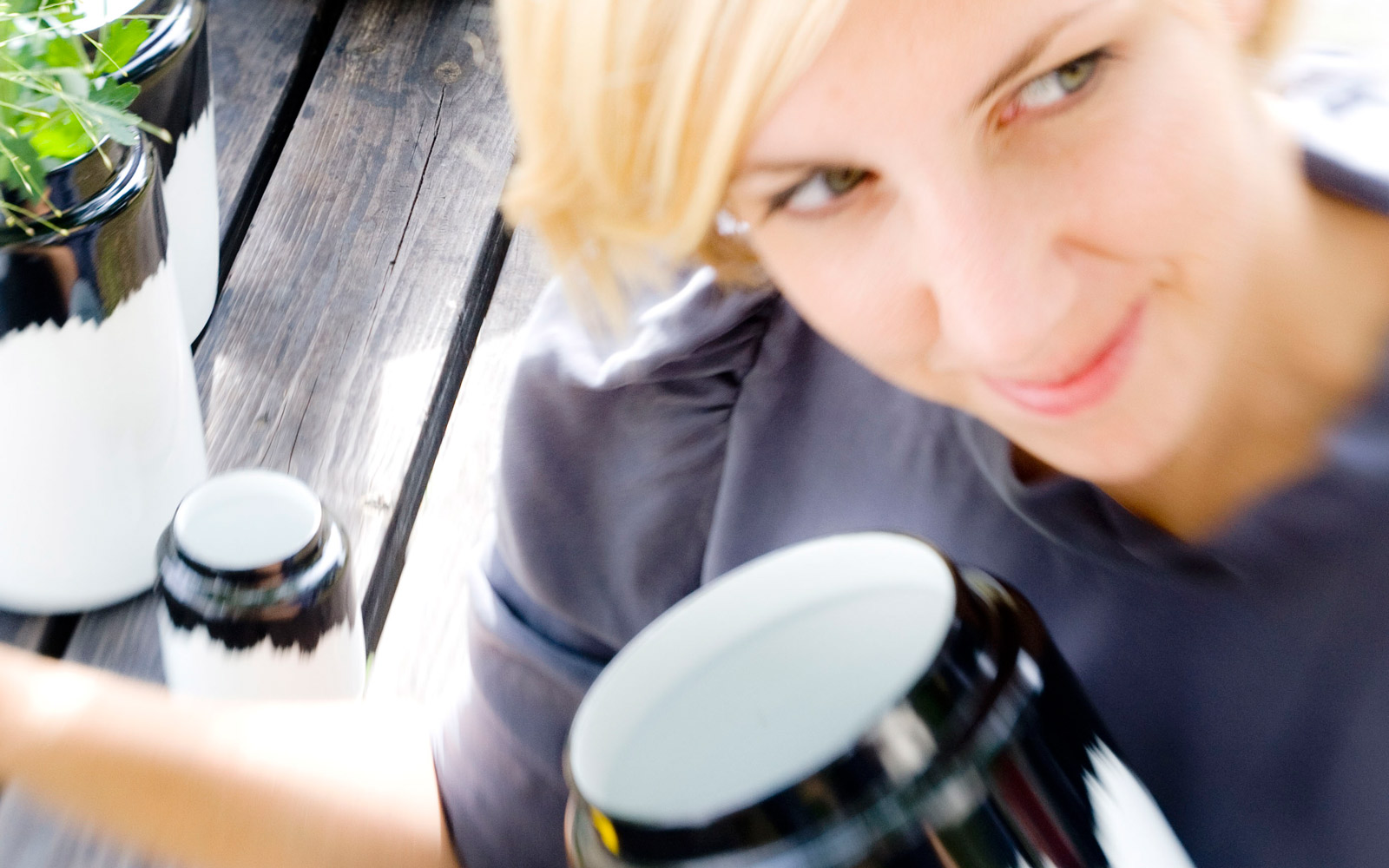 Agnes about Agnes
We have a crush on vases! The high. The low. The small. The Big. The round. The square-shaped. At age 17, designer Agnes Fries knew that her dream was to do ceramics. She gratuated from The Royal Danish School of Design in Denmark and has worked with clay ever since. Today, she splits her time – and business – between Scandinavia and China. Designer Agnes Fries unveils her personal view on design, and introduces us to her own design for Normann Copenhagen; the Agnes vase. Immerse yourself in the fascinating world of vases, by Agnes Fries.
Which stories do you believe porcelain can tell?
''Porcelain is one of few materials that doesn't change over time. In museums you'll find ceramic vases from Jingdezhen that look exactly the same as they did 1700 years ago. This means that whatever we make in porcelain today can survive thousands of years and tell stories about our time. This is of course quite mind-boggling since most fields deal with much shorter time frames than that. If you're just chitchatting you should probably choose another material, or at least consider if it's worth passing on.''
A cluster of Agnes vases.
Where did you find inspiration for the Agnes vases?
''I spent a summer researching how to translate brush strokes to ceramics. I often work like that, picking a topic and then focusing on how to boil it down and express that essence. Porcelain is my medium, a way to communicate, and with Agnes I wanted to show the beauty of freshly painted brush strokes. First came the feeling, than came the shape and the technical way of expressing that feeling.''
How do you work with function?
With Agnes I really looked into flowers and what size they actually have. Long stem lilies, roses, big bucket of tulips or a little handful of coltsfoot are different, and the proportions are chosen accordingly. The decorations are also adapted to the sizes of the vases, so the balance of black and white fits the different shapes. I'm intrigued by relations and how things interact. Functional objects relate to us and are parts of our lives. I make a vase and then someone puts it in a room, next to another object or three. Then time changes, and maybe five or twenty years from now the home looks different and things feel different too. To design something that can work in as many variations as possible without taking over or loosing its identity is perhaps the biggest thrill in my work. Designers do it intuitively, and these are some of the aspects we look for when detecting something that has 'it'.
Can you tell us more about the artistry techniques you are using in your work?
''I try to honor the material and craft itself and to create something that highlights it. The black decoration on Agnes is there to show the blackness of the strokes, the whiteness of the porcelain and the traces of hand. I often work with color and decoration like that, as a contrast to the amazing white surface that porcelain offers. I basically just work with color and shape and how they relate to one another, expressed through porcelain.''
The Agnes vases are handpainted. Here the final strokes are being painted before the firing process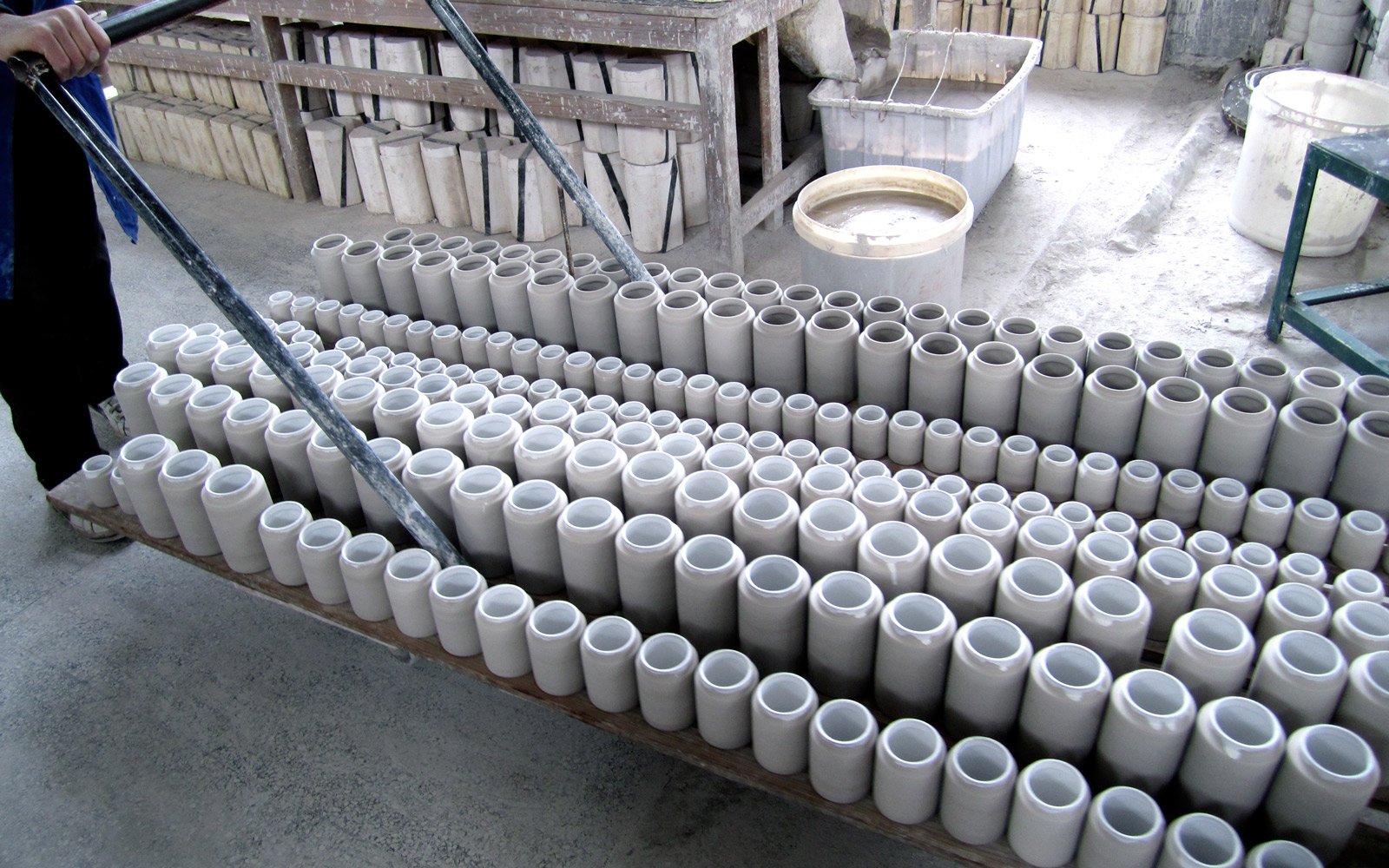 Agnes vases in the process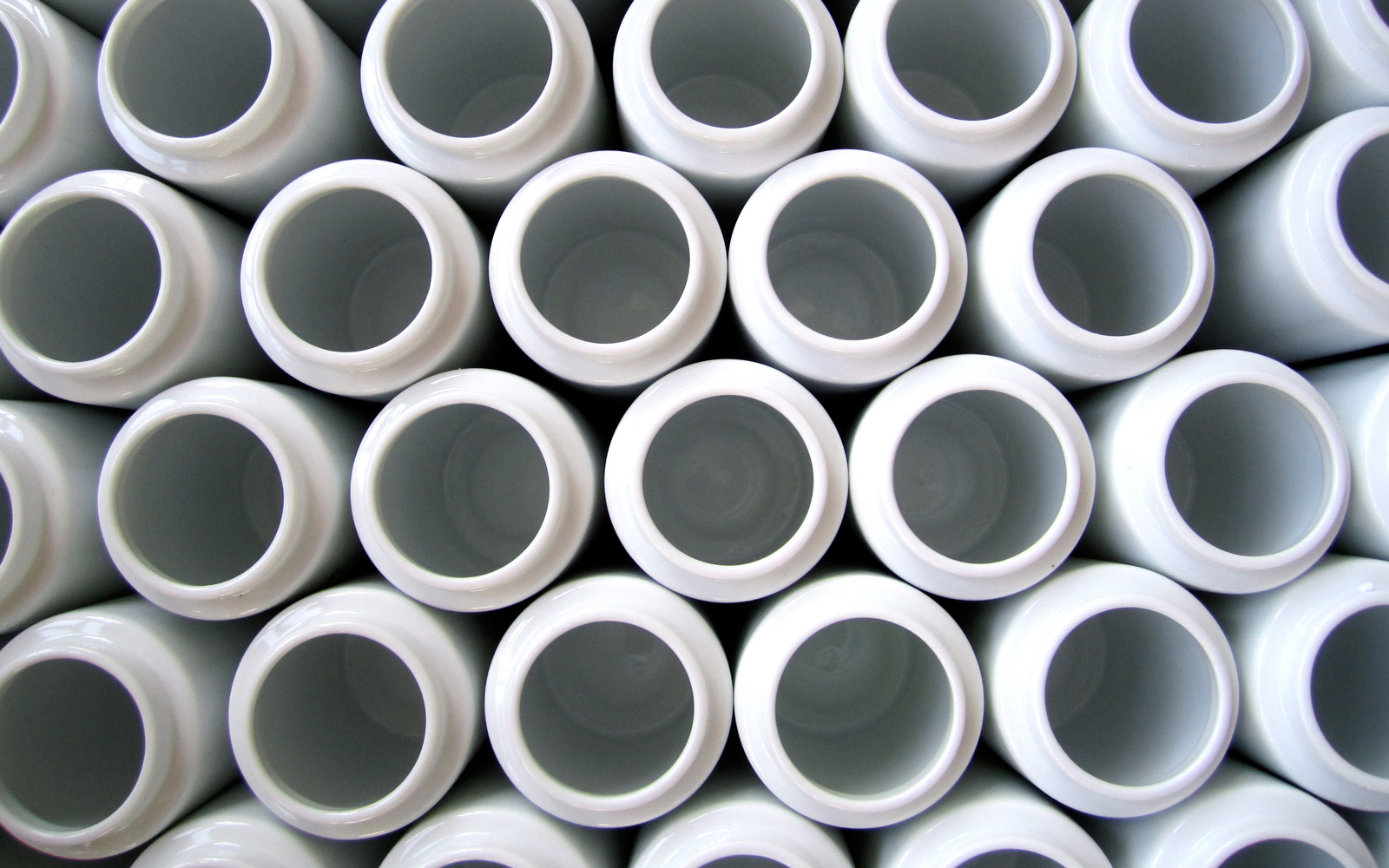 Agnes is characterised by its simple but contrasting look
Do you favor working with a specific technique or glazing?
''My mother is a print maker and my father was a surgeon and painter and I can see their fields combined in my work. I like my work to be graphic, colorful and precise – something porcelain and over glaze ideal for (the technique used for the Agnes vase). I love working with sharp lines and then seeing them come to life after firing, through that slight warp that makes the clay feel natural.''
In 2012, the Agnes vase was handpicked to become part of the Danish Craft Collection. What did that mean to you?
''Danish Crafts have supported me a lot over the years, and Crafts Collection was important since it gave me the opportunity to show my work to an international audience. My first client through their show at Maison & Objet ended up being Paul Smith, and then Normann Copenhagen approached me about putting the vases in production. The response has been quite overwhelming and I'm very lucky to live in a part of the world where we have art funding and support to develop those ideas that might take a while to finalise.''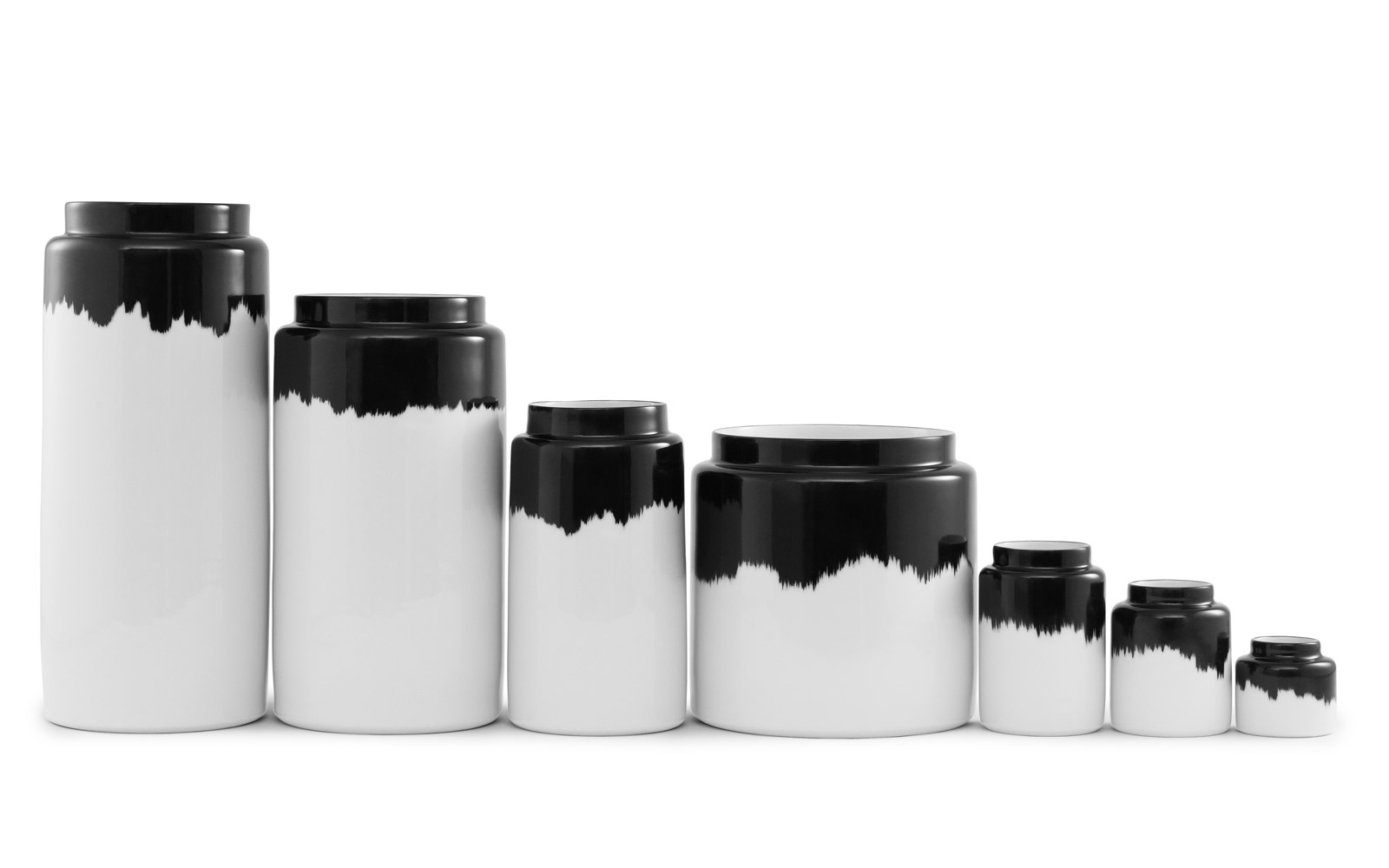 The Agnes vase comes in 7 sizes
What fascinates you about vases?
''A vase has an outside and an inside, sometimes open enough to see both at the same time, sometimes closed and secret with the inner space almost hidden. It's an interesting metaphor for people, and I like to think of my vases as family members. I often work with series of objects that can stand on their own as individuals, together as a whole or combined in different ways. The Agnes series consists of seven different shapes that work like that, and they also need to work with flowers or other contents or in someone's home. I'm always happy to see pictures from people's private homes showing my vases in a new context. That's the beauty of functional objects – they get a life of their own and become part of someone's everyday life. They're used, moved around and become part of expressing our human urge to and talent for composing and decorating our surroundings. Flowers in a vase is a nice symbol of life, something that withers and something that stays.''
What is your all-time favorite vase?
''The large Thorvald Bindesbøll earthenware vases in the collection of Designmuseum Danmark takes my breath away every time I see them. They're so effortless and bold and tactile and have everything I wish I could do at some point in my own work.''
How do you use vases yourself? For small flowers, big buckets or…?
''Both my studios and my home are filled with vases but I rarely have flowers in them. I like vases that work with or without content, and I like using them for my tools such as paintbrushes, pencils or drawings. I like functional objects that are beautiful as they are, and then go through some kind of transformation when used, and I suppose I like treating functional objects as flowers too. Kitchen tools, cutlery and spare candles end up in vases too, and I got a gorgeous ostrich duster from my mother, which is perfect in a vase. My big collection of scissors and brushes look just as good as flowers, plus they never go bad.''
What is your best styling tips with vases?
''I sometimes bring my vases to the florist and ask them to choose something for me. It's fun to see their skill and knowledge in action and I learn something every time. If I have a big bouquet I like taking one or two flowers and put them separately in a smaller vase to see them in a different way. I tend to move the vases with me, so I can see them in as many places as possible.''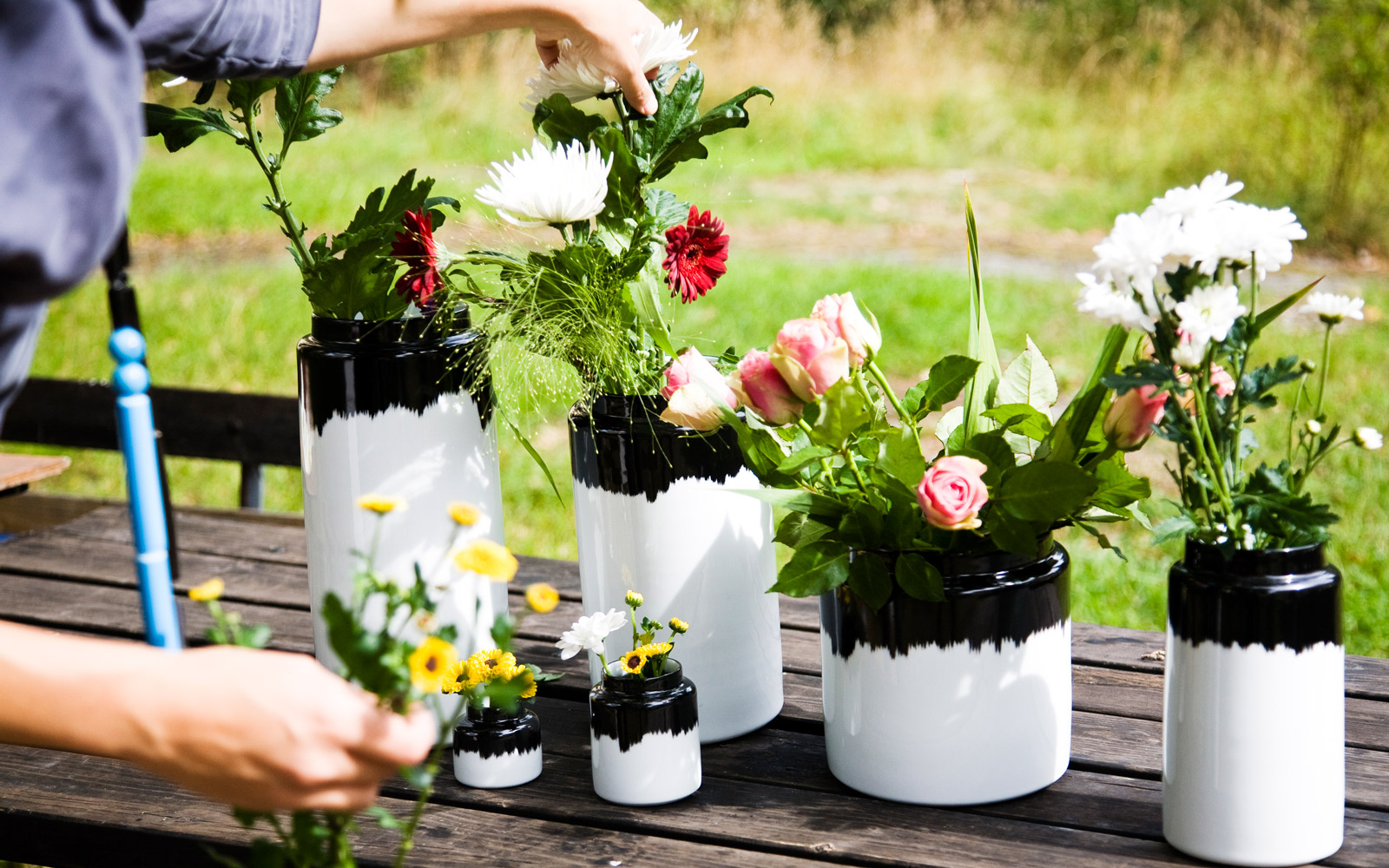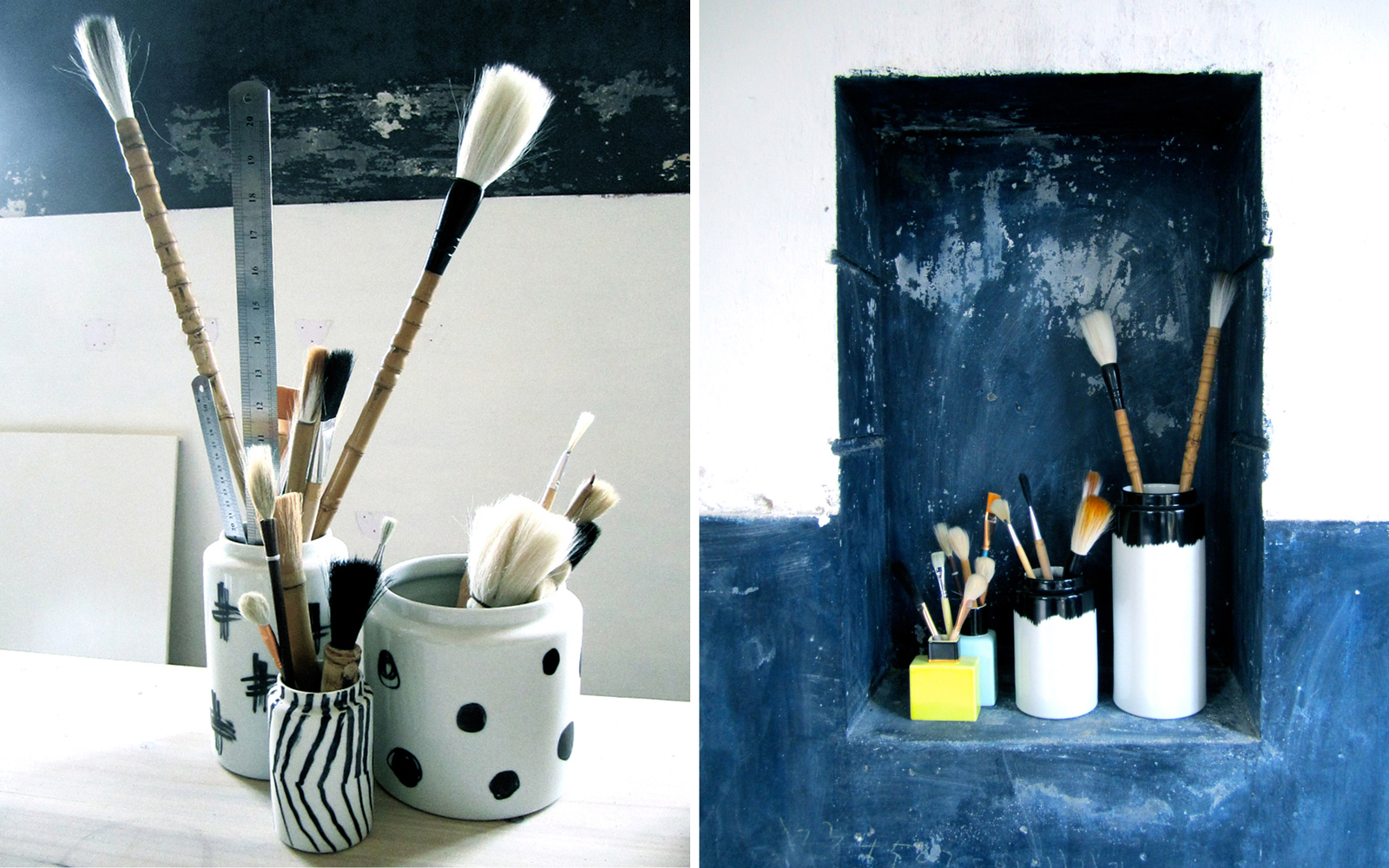 Pictures from Agnes own studio and Agnes' own picture with different Agnes vases