FREQUENTLY ASKED QUESTIONS
WHAT IS THE SHIPPING CHARGE AND DELIVERY TIME?
CAN I HAVE THE DANISH VAT REFUNDED?
CAN I PAY FOR MY ORDER BY BANK TRANSFER?
WILL I BE CHARGED CUSTOMS OR IMPORT DUTIES IN MY HOME COUNTRY?
I HAVE TO RETURN SOMETHING, WHAT DO I DO?
THE PRODUCT I RECEIVED WAS DAMAGED OR INCORRECT, WHAT DO I DO?
Yes, we ship our products to all parts of the world. We ship with UPS for standard orders, and use a dedicated shipping company for large orders and sofas etc.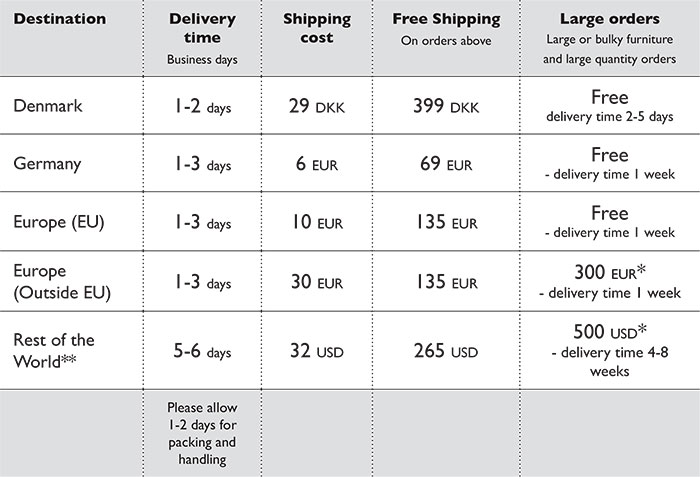 All orders are shipped from our warehouse in Denmark.
Please note that local customs and VAT will be charged when shipping outside the EU.


*For large or bulky orders shipped outside EU the shipping costs are only indicative. We will calculate the final shipping price after the order is placed and contact you prior to shipment if additional shipping costs will be applied to your order. You will have the opportunity to cancel the order at this stage of the order process.
**Selected countries
Normal Orders

All normal orders are shipped with UPS.
You will receive an e-mail with shipping information when your package is on the way.
Large orders
Sofas, Large or bulky furniture and large quantity orders are shipped with a special carrier depending on the destination.
You will be contacted directly regarding the delivery time, as it varies depending on the country.
Your order is delivered to street level only, and will not be carried inside at your destination address.
The customer is responsible for the disposal of pallets and other packaging used in connection with the delivery.
Yes, you will receive an e-mail from UPS with a tracking number once they have picked up the order from our warehouse.
If you order for shipment outside of EU, the Danish VAT(25%) is automatically deducted in the shopping basket. Please note that local VAT and customs duties will apply upon receiving your package.
Company order within the EU: If you have a valid VAT number, we can reimburse the Danish VAT(25%). Please pay the full amount upon checkout, and reply to the e-mail with the order confirmation, and send us your company VAT number. The amount for the VAT will be refunded to the credit card you paid with.
Yes, please send us an e-mail with the items you wish to buy, and we will send you an order confirmation with our bank information. E-mail us at
shop@normann-copenhagen.com
Maybe. If your delivery country charges customs or import duties - these will be charged once the
package reaches the destination country. You will have to pay these charges. This also applies to the purchase of gifts or other purchases made on behalf of another recipient. Unfortunately, we have no control over the charges and cannot inform you what they will be. Customs policies vary widely from country to country – so if you have any questions regarding this, please contact your local customs office for further information.
All you have to do is notify us by e-mail or with the return form within 14 days of receiving the item. Send the items back within 14 days of notifying us. Please fill out the return form that came with the products.
The return shipment is not prepaid. You have to pay for return shipping yourself. We will give a full refund for the items you bought, including the initial shipping charge.
The return address is:
Normann Copenhagen
Narvikvej 16
4900 Nakskov
Denmark
Please send us some pictures of the damaged goods and the packaging if relevant. We will replace any damaged products free of charge. Just send your pictures and a description of what the problem with the product is to: shop@normann-copenhagen.com
You are entitled to give notice of defects for a period of 24 months.
Yes, if the order has not yet been sent from our warehouse. Normally orders are sent 1-2 business days after you place the order. Contact us and we will help you.
If your order has been shipped from our warehouse you can not cancel your order. The order will be shipped to you, and you will have to handle it as normal return. Please see details in our return policy.
All other questions: