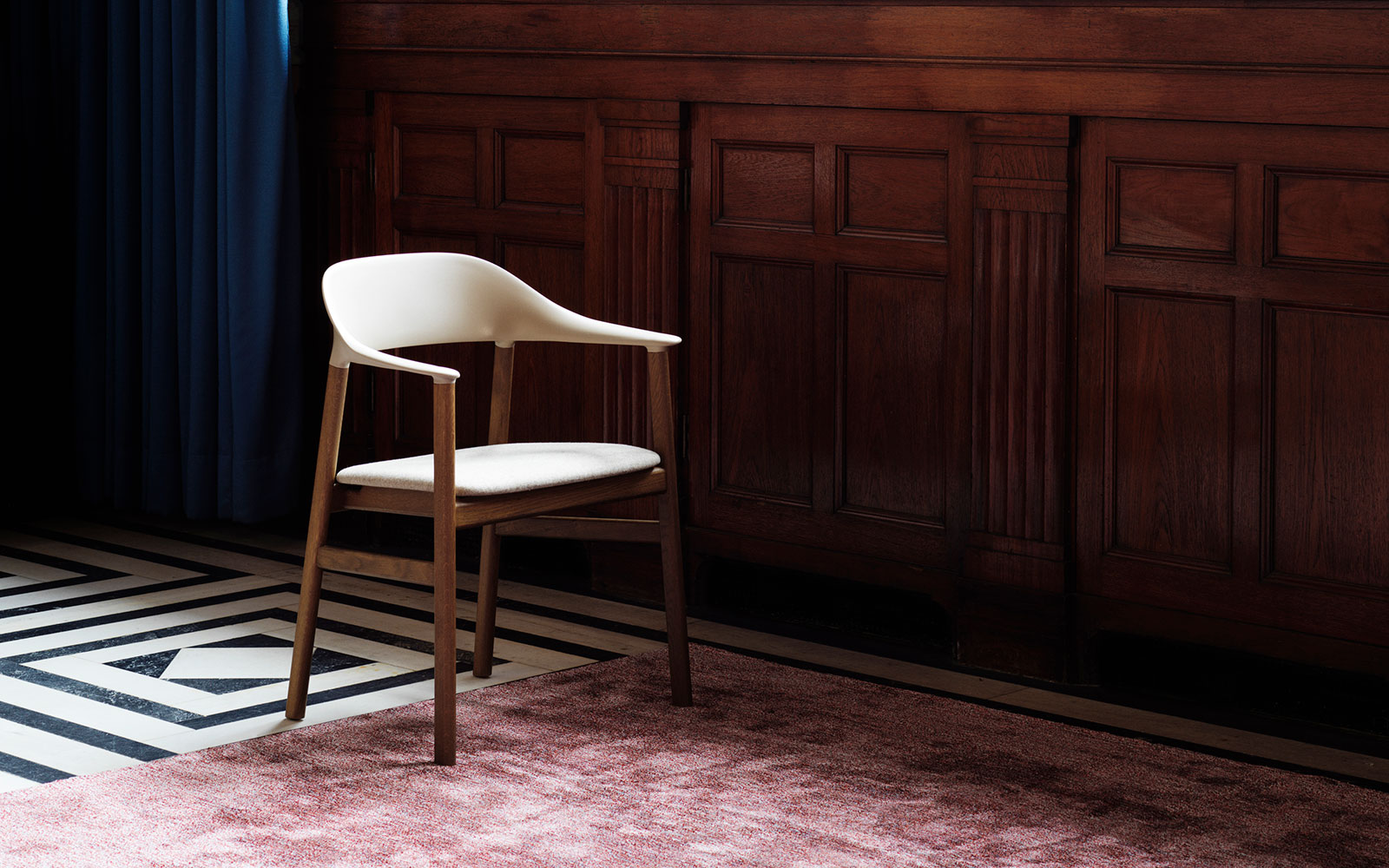 A Chair That Blurs The Lines Between Tradition And Innovation
The simple and honest style that characterizes Danish furniture history stands as a clear frame of reference for this collection draped in nostalgia. But Herit is just as much a design that looks forward: innovative production methods, new material compositions and timeless silhouettes give life to a chair that stands tall on its own.

"I wanted to design a versatile and strong chair that unites the different eras of Danish design," designer Simon Legald says about his new chair design.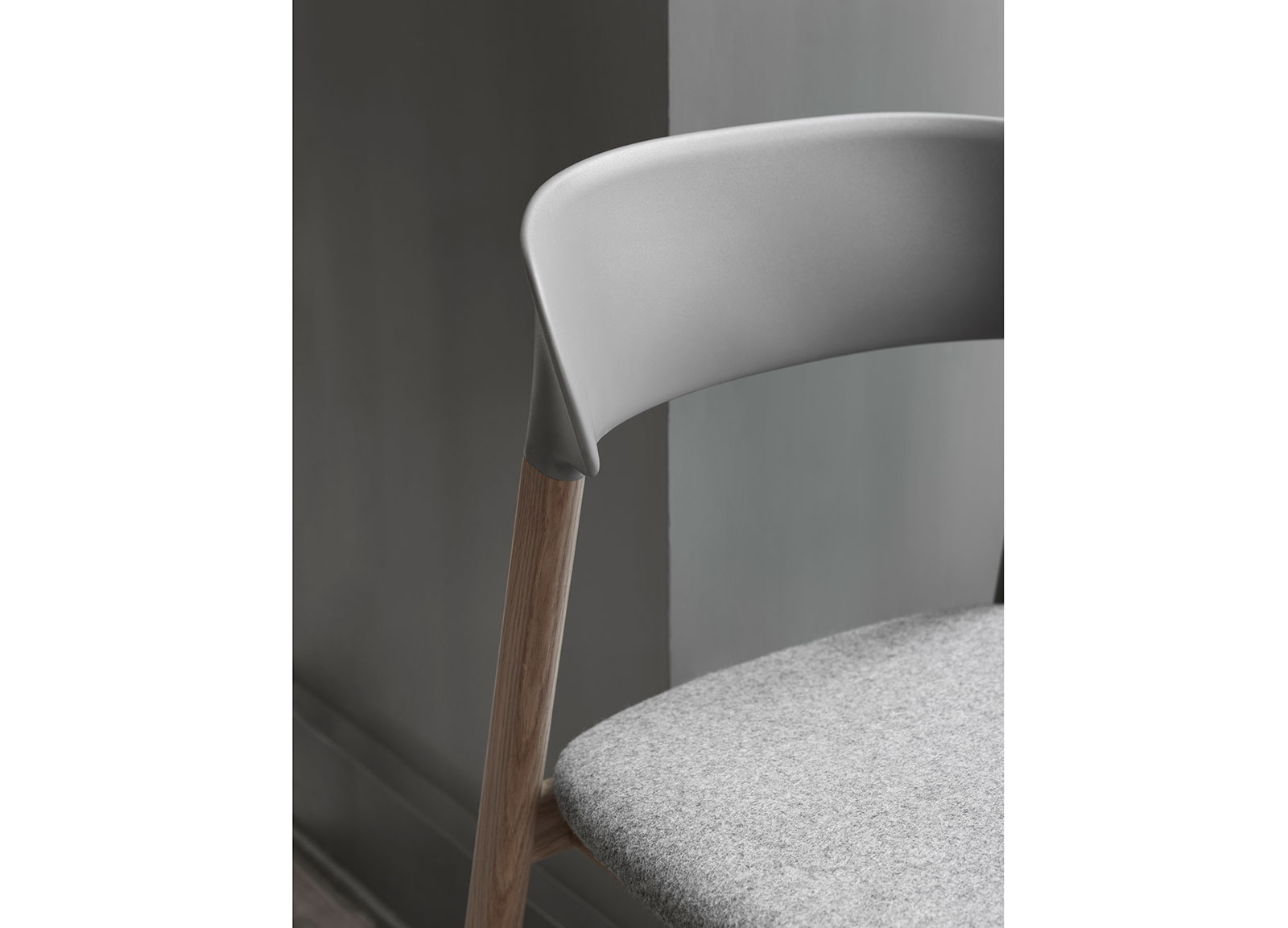 DANISH FURNITURE TRADITIONS

Danish design traditions have left a clear mark on designer Simon Legald's chair series. Herit — short for heritage — shows Simon Legald's love of classic Danish furniture craftsmanship, which inspired the swinging lines of the armrests and the chair's timeless silhouette.

The designer's desire to create a chair that unifies different eras of Danish design was the starting point for his design. And the result? A chair in which oak and plastic merge in tactful synergy, to create a hard-wearing, maintenance-friendly and accessible design, made for modern life.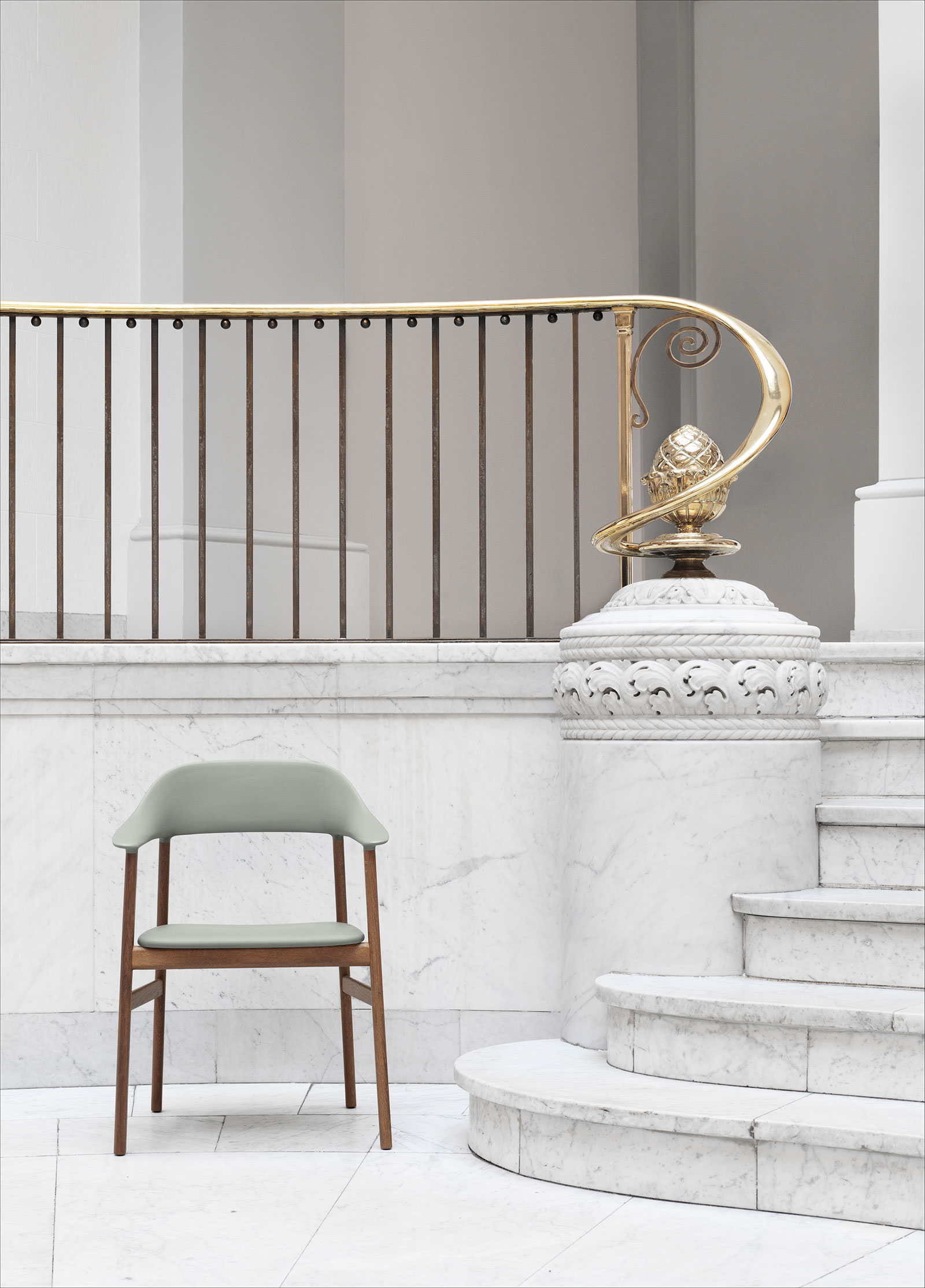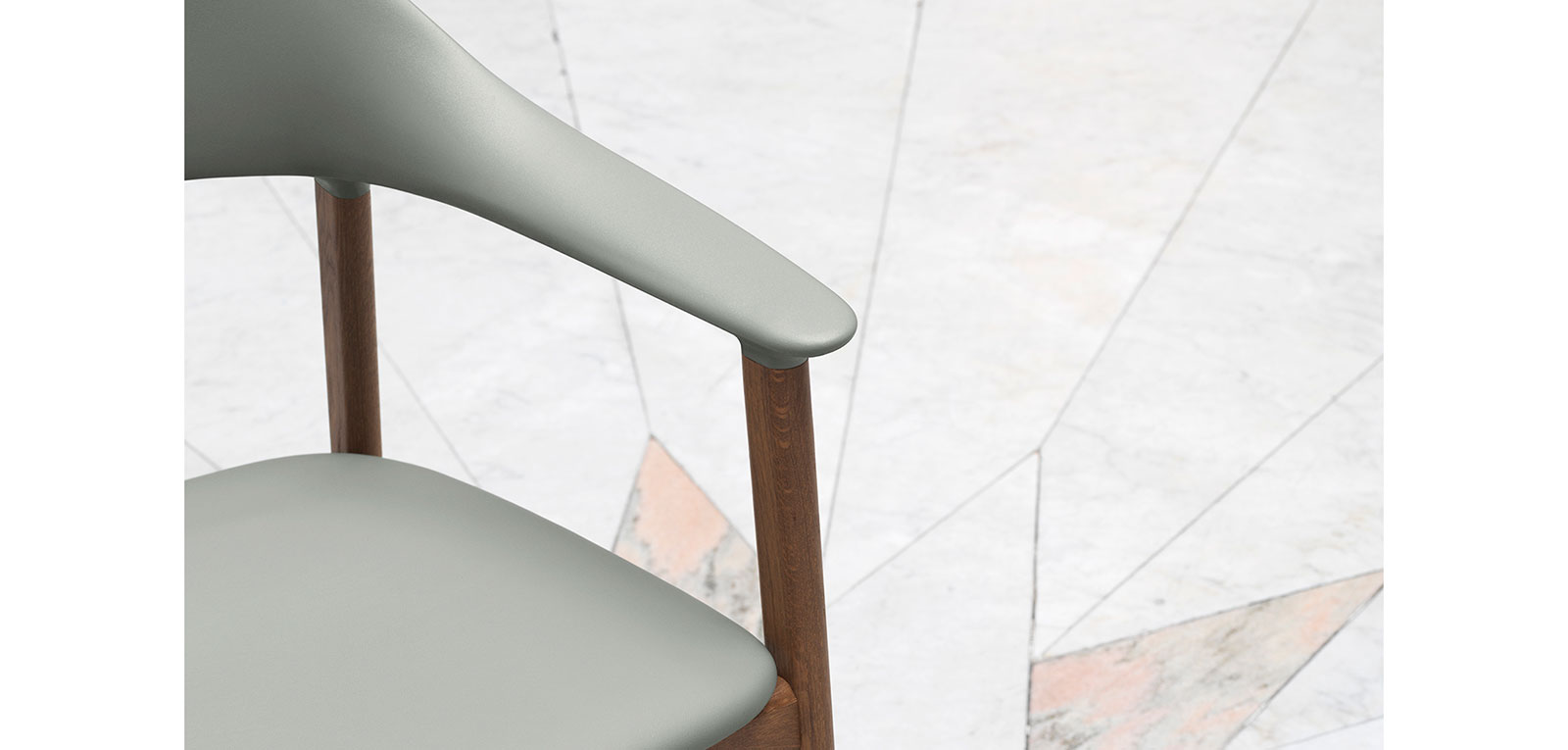 MODERN PRODUCTION METHODS

The project however had a tough start. The smooth curves that spread across Legald's drawing table proved impossible to produce at first. Standard plastic molding techniques do not permit variations in the plastic's thickness of more than 10mm, as the material will inevitably collapse. Herit's curved armrests required more room for expression and full control of the shape, and so the project was put on hold for the time being.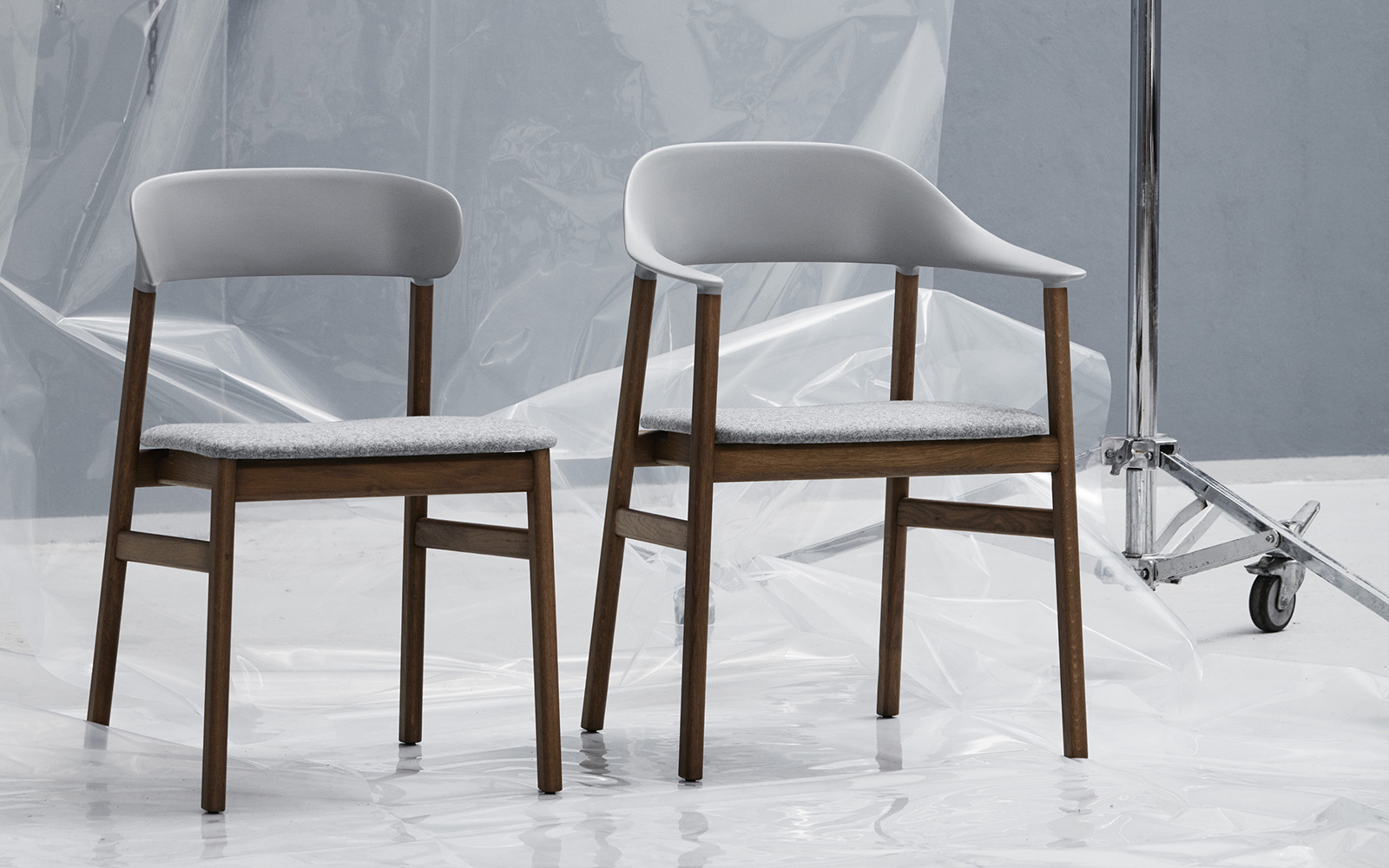 Herit was consigned to the drawer, until Legald eventually managed to come across a small factory in northern Italy that had developed a brand-new way of molding plastic:

"It's an innovative, patented technique, where a core of foam is injected into the plastic. This enables large variations in thickness without the plastic subsiding," Simon Legald explains.
This unique interaction between material and form opened the door to the design of Herit. The curves of the back and the armrest undulate in an easy, sensuous exchange between delicacy and fullness, from a narrow 6mm, to 35mm at the broadest point.

Left:Foam-injected backrest of the Herit chair. Right: Behind the scenes of the production.
Herit production facility in Northern Italy.
And the path of the curves is by no means random; it is precisely designed to follow the shape of the body and create the correct support in the seated position. Herit is a chair that truly unfolds its beauty as you move around it and observe the transitions of shapes.
With tradition and renewal combined in equal measure, Herit is a hybrid of time that transcends styles and periods. Whether it moves into a classic apartment, a modernist building or post-modern architecture, it inhabits the space with natural ease and subtle grace.