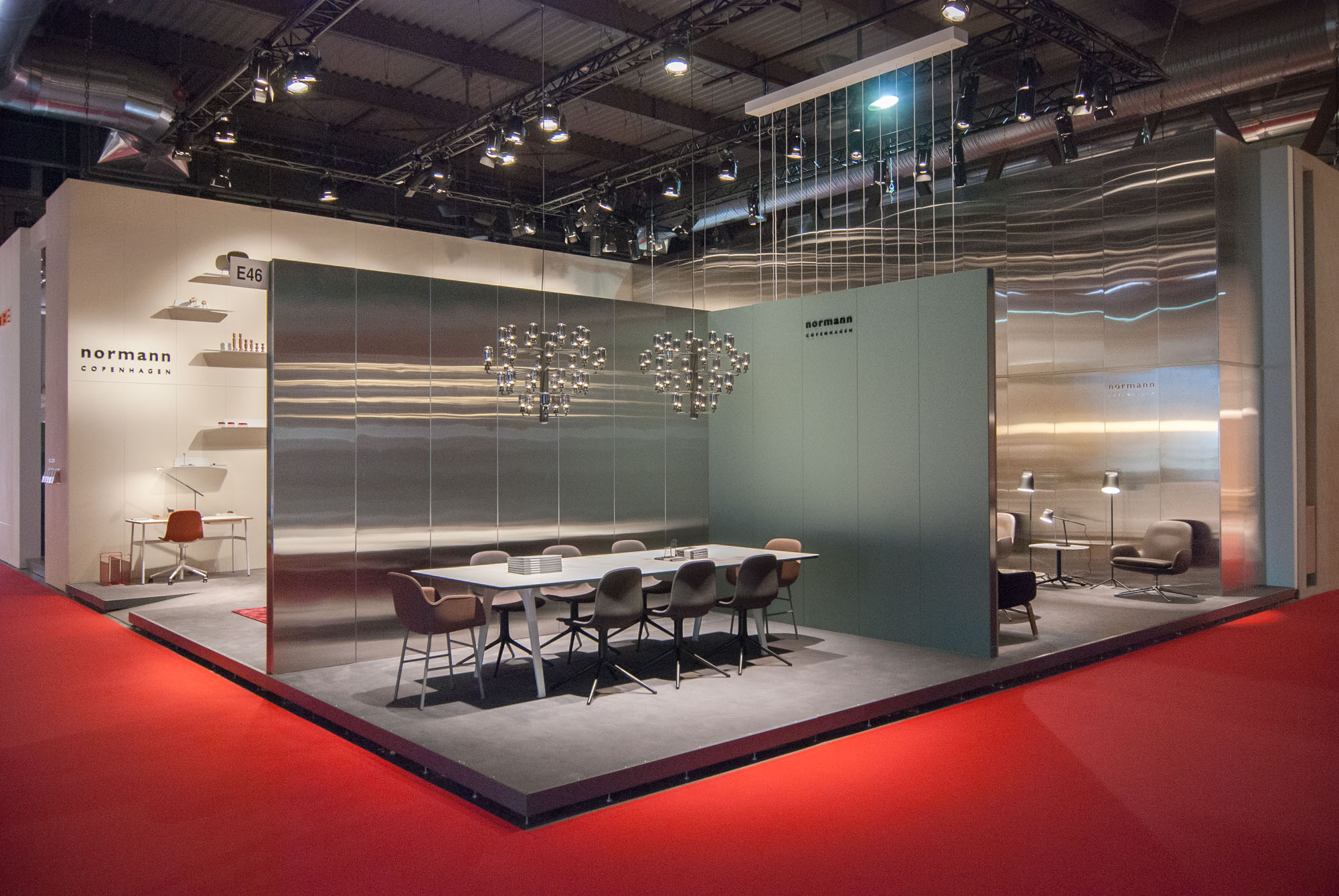 Salone del Mobile Spring 2017
Walls clad with brushed steel and velour in contrasting colors create the fair stand that invites visitors to experience different environments in a playful mix of colors and materials. The stand's brushed steel walls and velour curtains form a recognizable expression to our previous fair stands during last year's Maison & Objet in Paris and Orgatec in Cologne.



BRIDGE CONFERENCE TABLE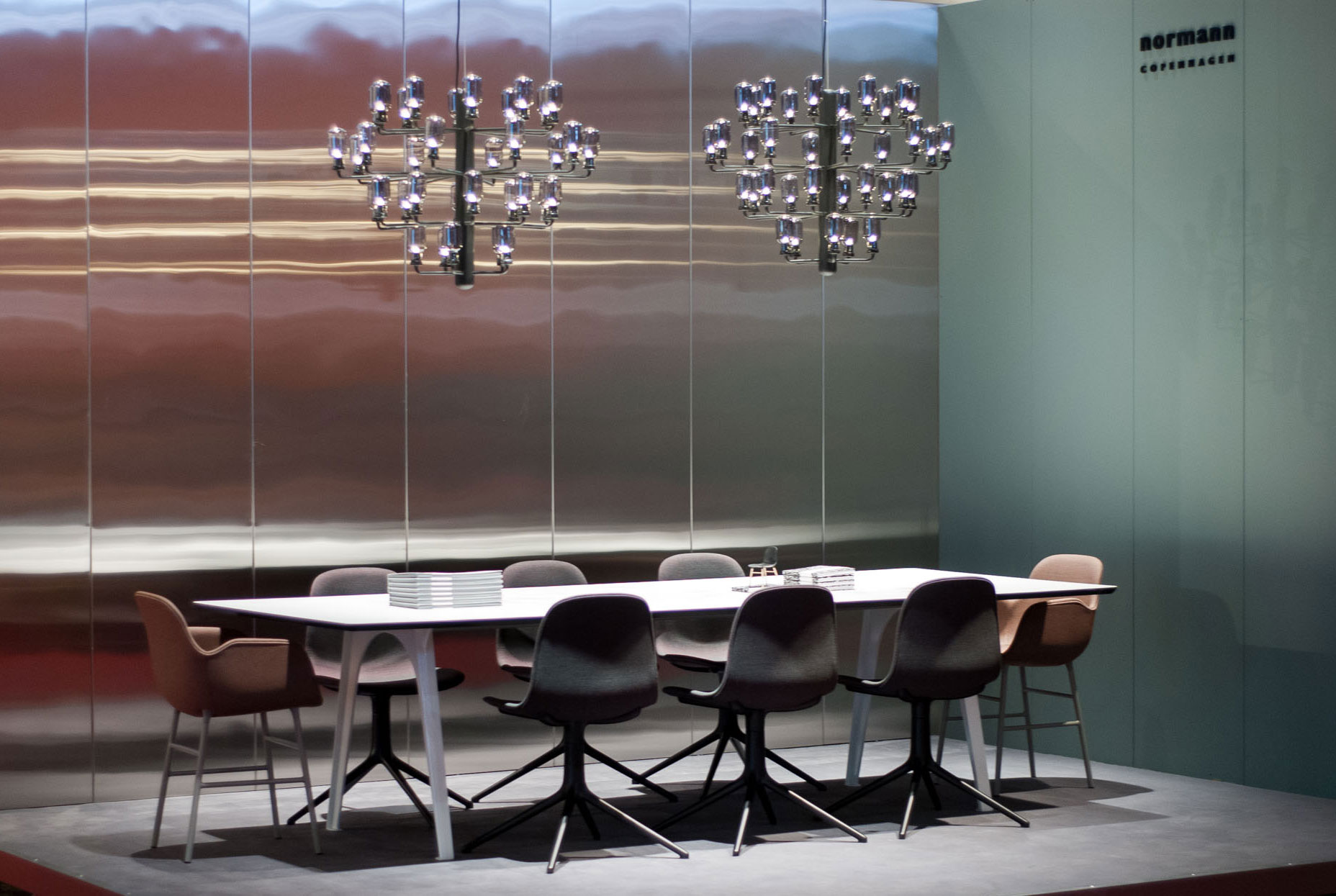 The office compartment forms the outer part of our stand and shows an industrial appearance, underlined by cool colors held in grey and black. Two imposing Amp chandeliers dangle over a long Bridge conference table. This two meter long meeting table offers seating for up to ten people on our customizable swiveling Form chairs.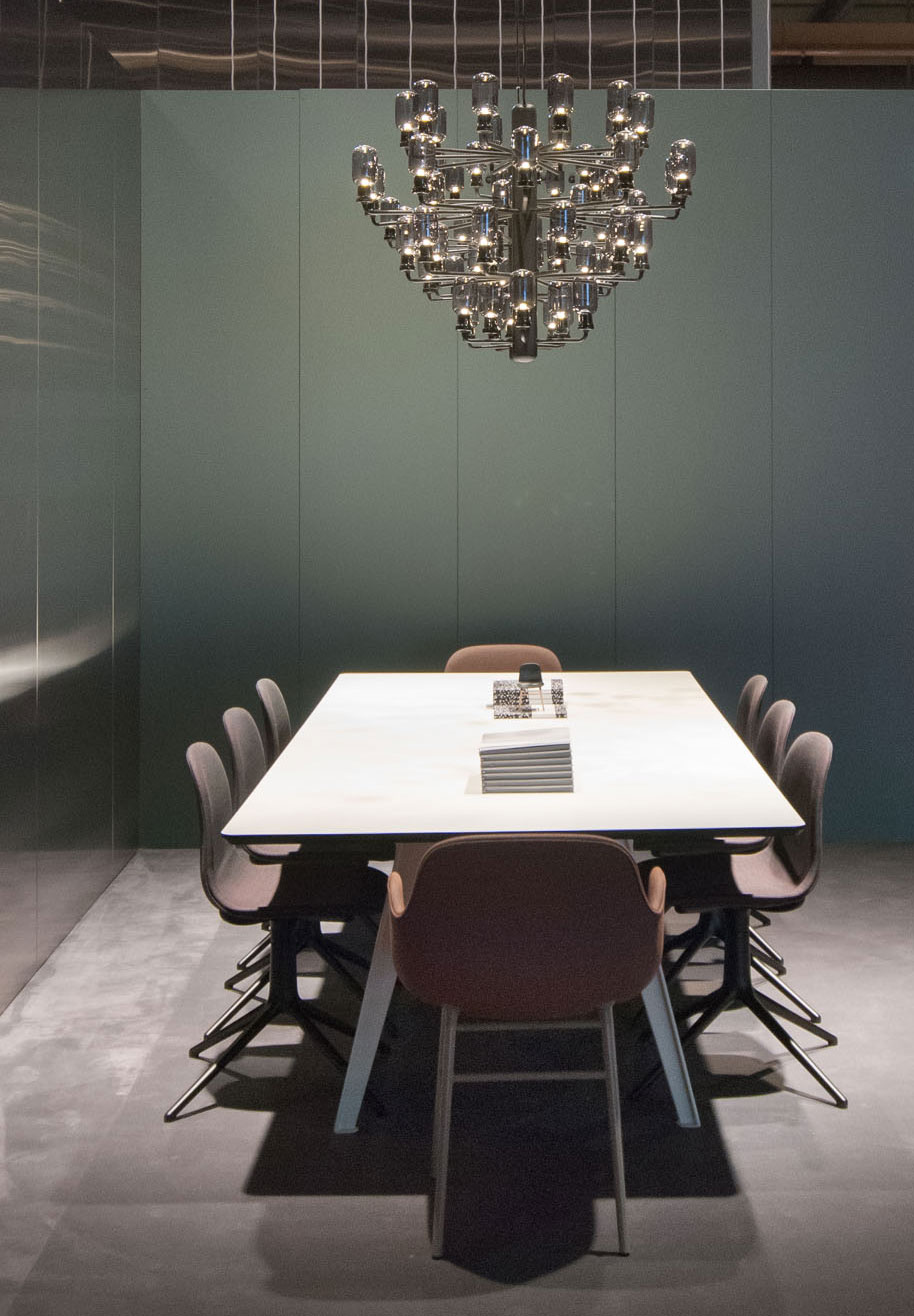 JET SHELF & HOME ACCESSORIES

On the large back wall, a display of Jet shelves presents a selection of stylish kitchen and home accessories: from the iconic Krenit bowl, to Agnes, Nyhavn and Still vases, as well as wooden figures like Happy Whale, and the popular Flip mirror, Scandinavian design accessories are presented in a visible, yet orderly manner.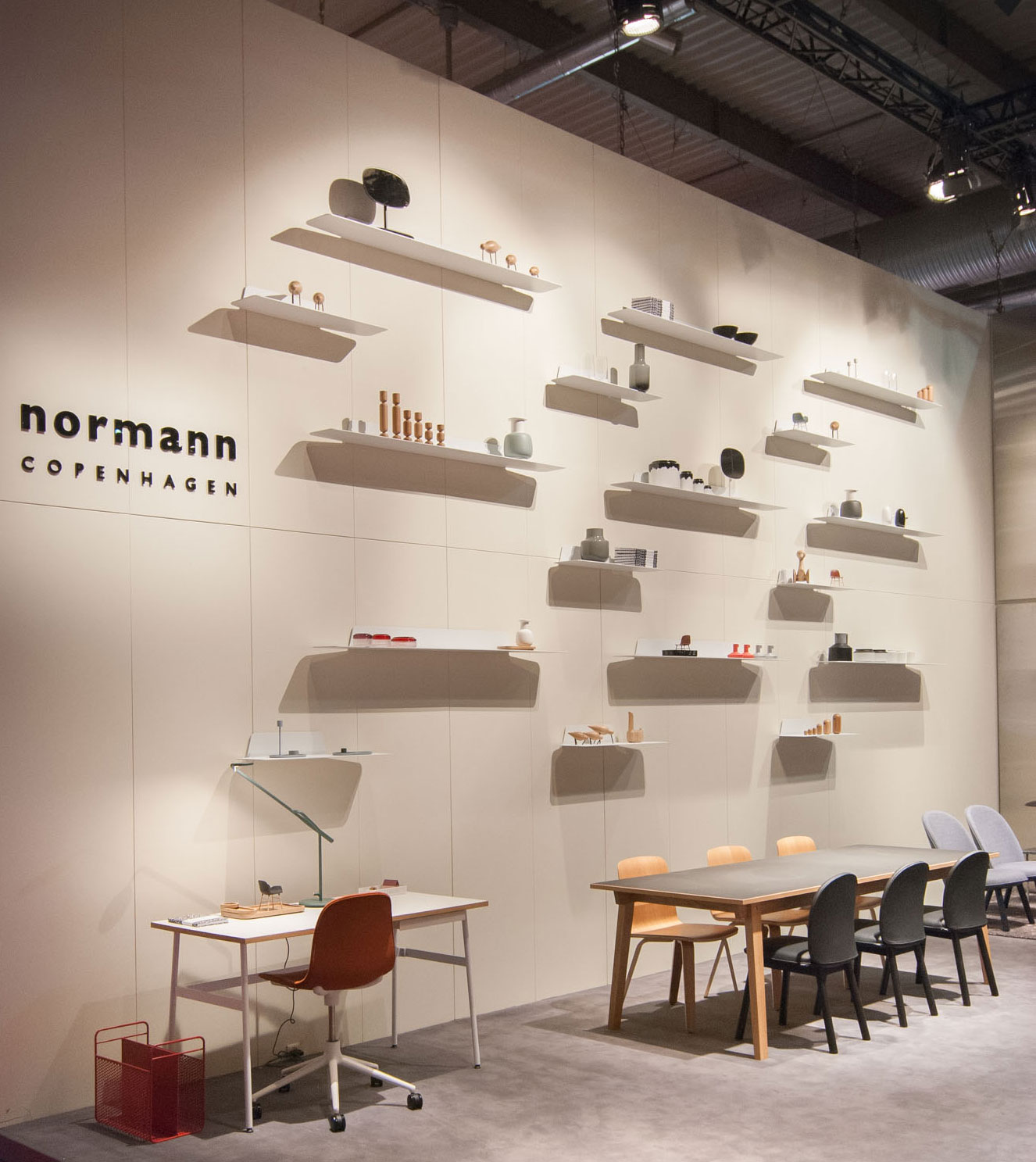 Below the artful display of Jet shelves, a Journal desk makes a smart office space: the desk is designed in a manner that does not take up too much space in the room. The smart construction includes a drawer under the tabletop for storage of office supplies, and a hole in the back of the table that collects cables of lighting, laptops or phone chargers.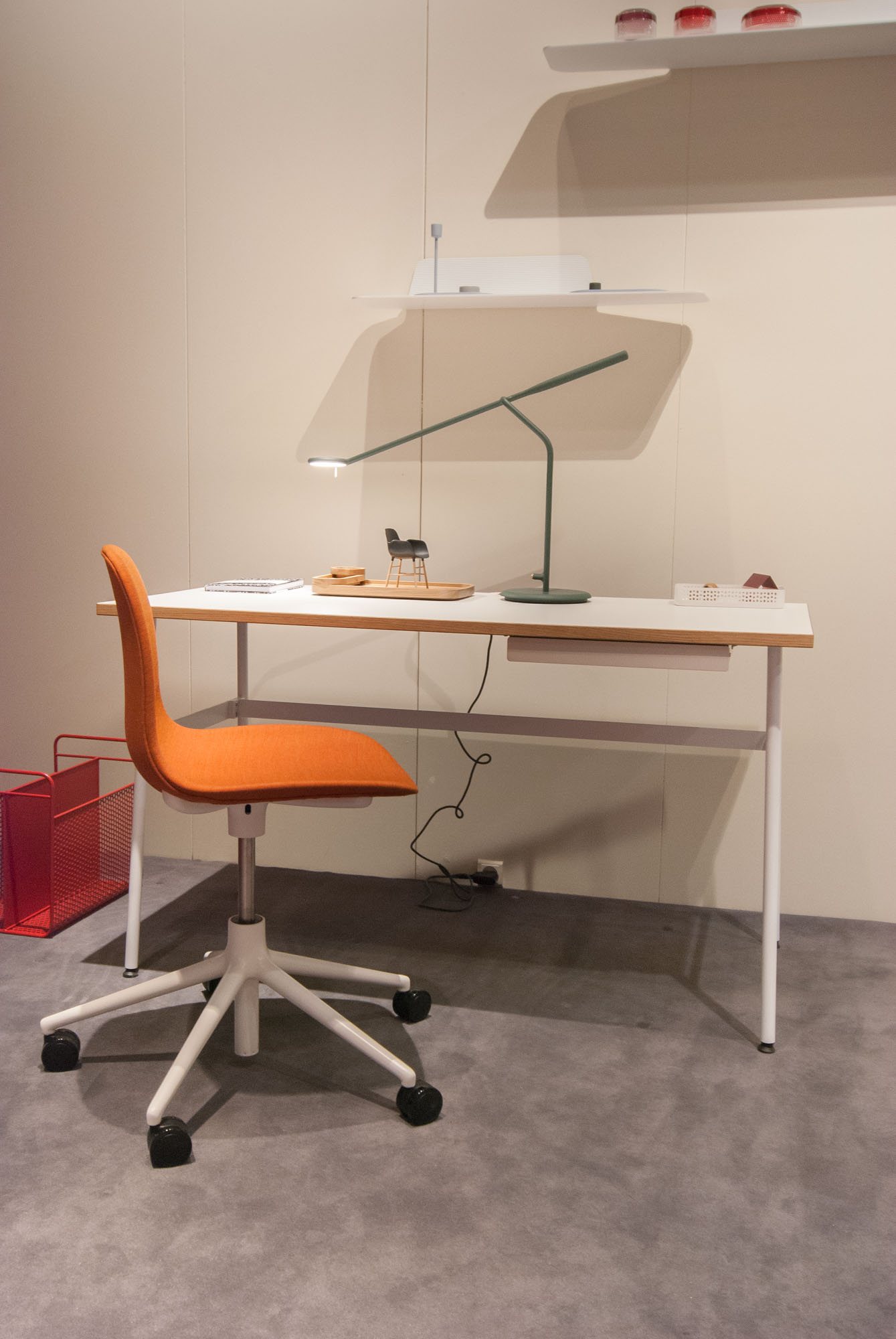 The burnt orange upholstery (so hot right now!) of the swiveling Form desk chair complements the colorful lounge area across the room. While the color tones of the different areas are not the same, they complement each other in their warm, friendly nuances.


PINK LOUNGE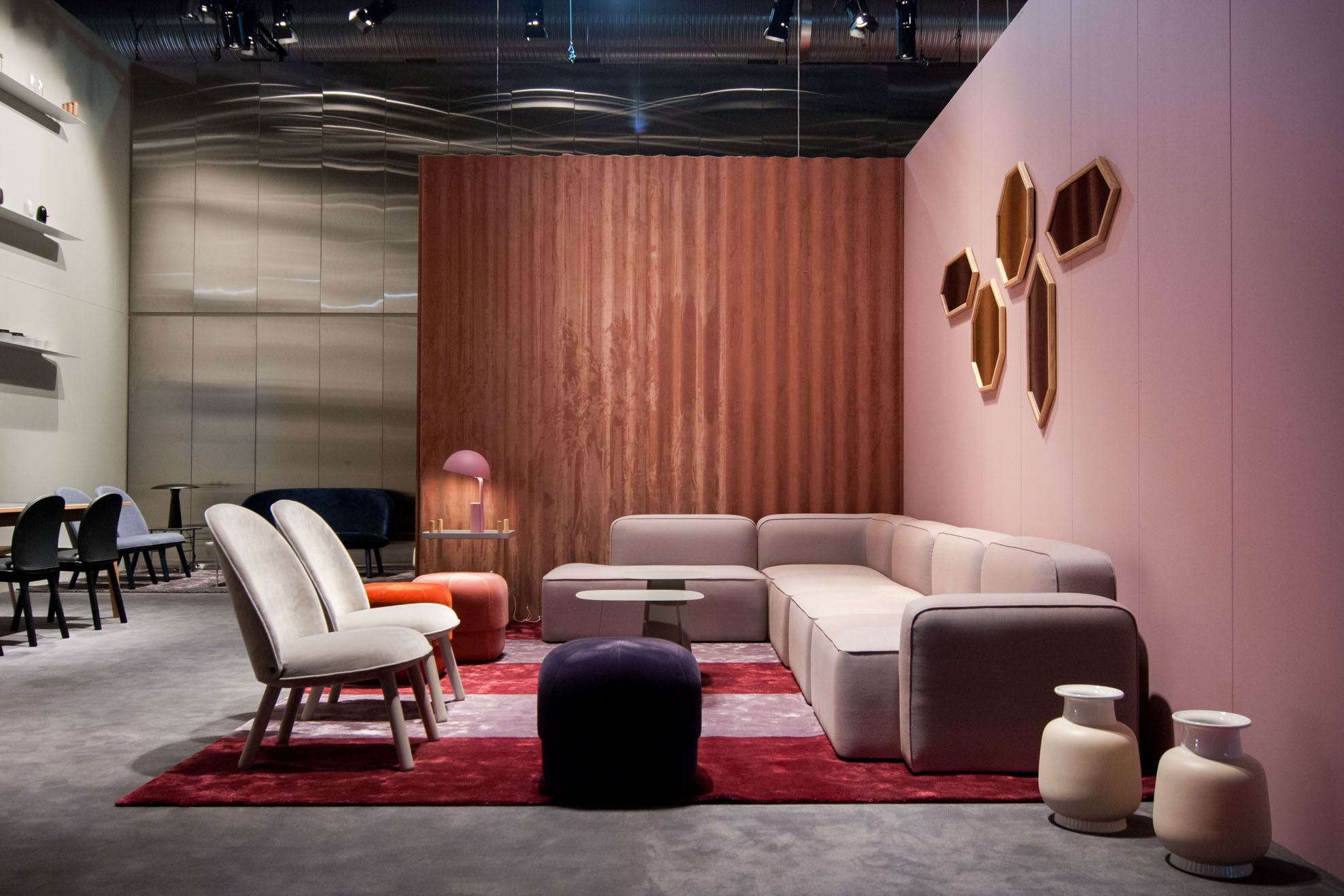 Newly launched shades of the Circus pouf are presented alongside our new striped Pavilion rug in a refreshingly pink lounge area, where large Rope sofa-corner and Ace lounge chairs in beige velour form a playful and relaxing space.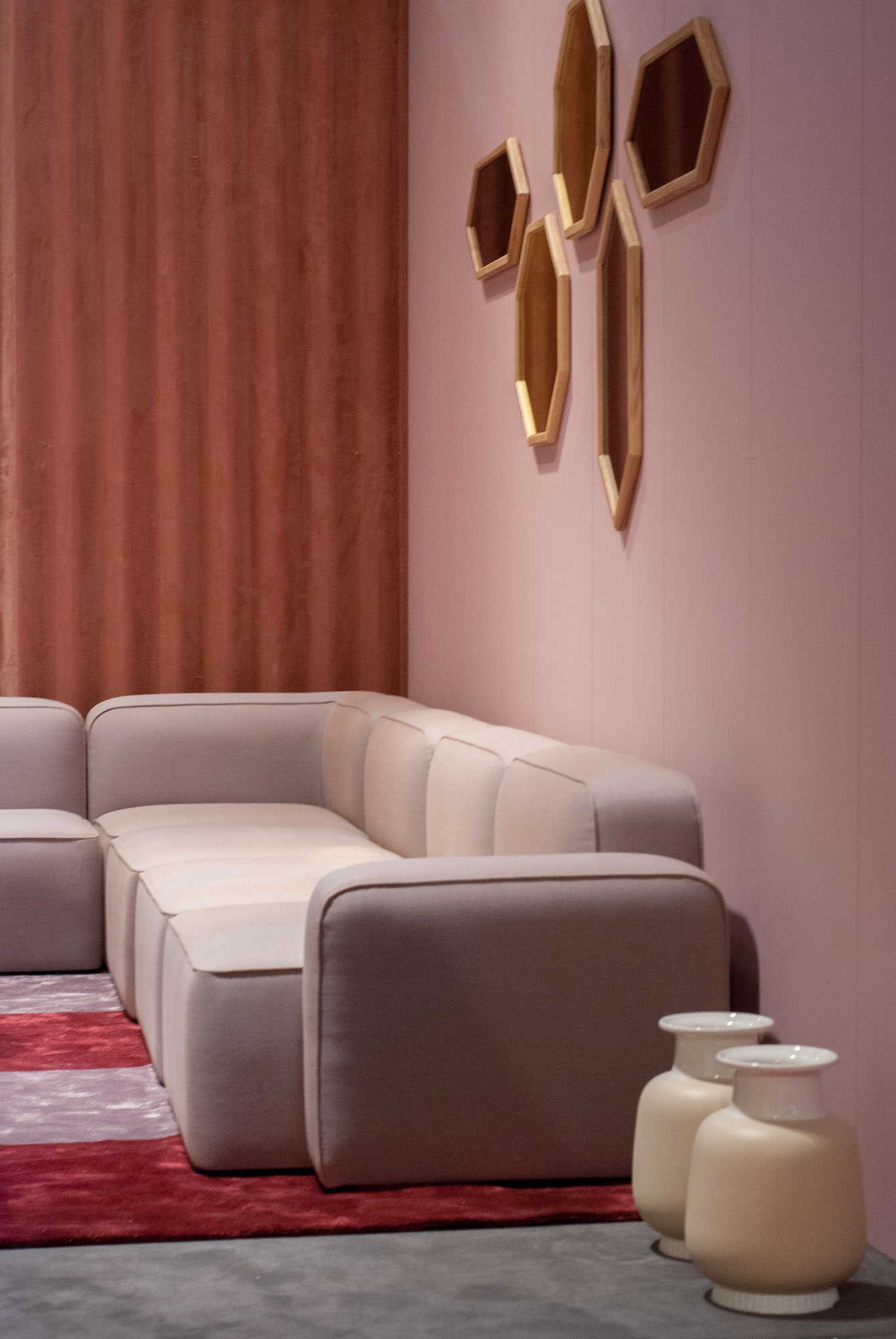 A nude colored Rope sofa and beige Nyhaven vases are surrounded by soft pink and dusty orange walls, where the wooden framed Lust mirrors create tantalizing reflections of the surrounding fair stand.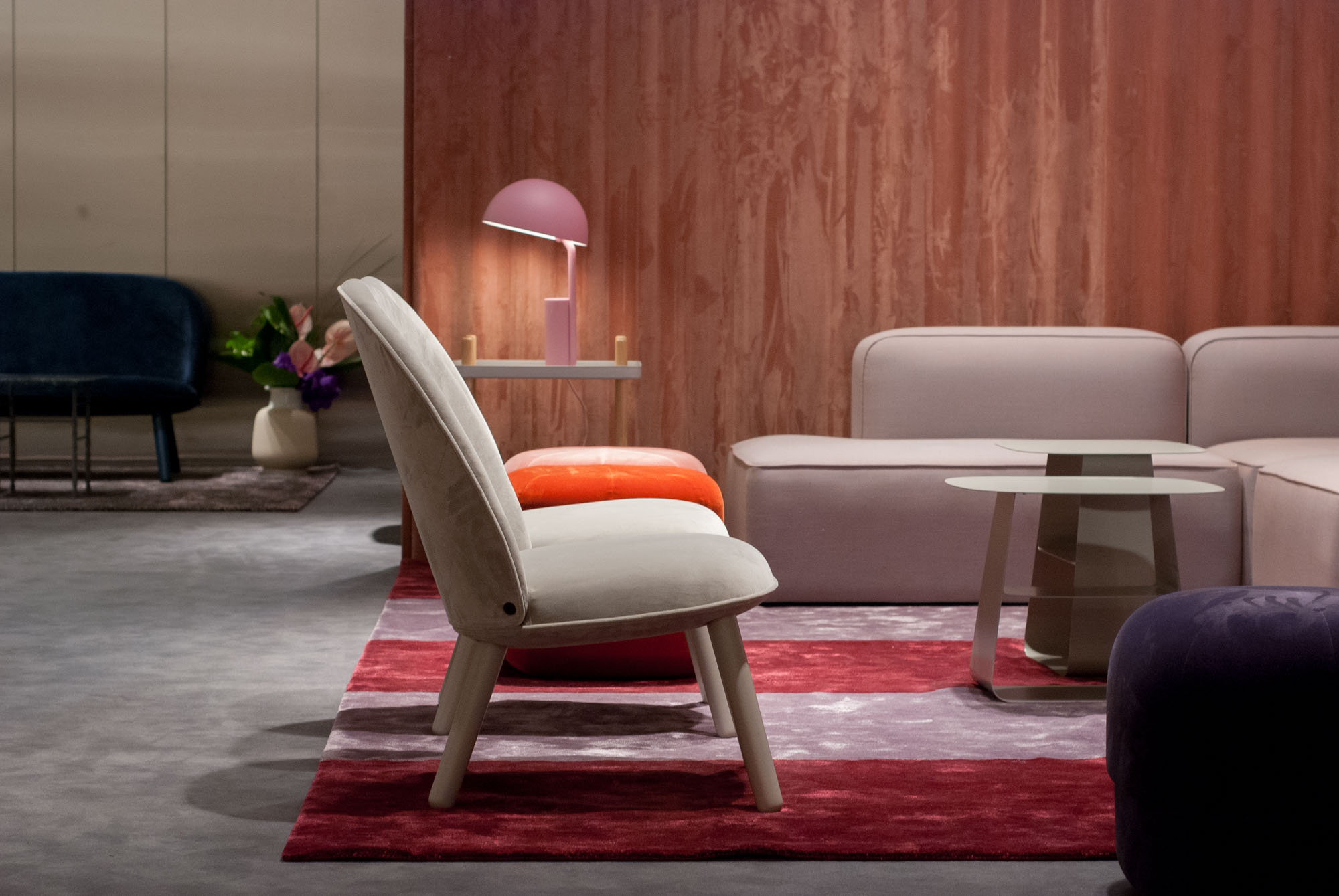 ACE LOUNGE COLLECTION


Soft curves and slanted back legs give the flat-packed Ace collection its nonchalant expression. The furniture series designed for urban lifestyle gives any interior a contemporary, Scandinavian look.
After its début at Salone del Mobile in Milan last year, Ace is presented in a comfortable lounge area and meeting point during the fair, together with our new Confetti rug and Terra coffee tables designed by Simon Legald.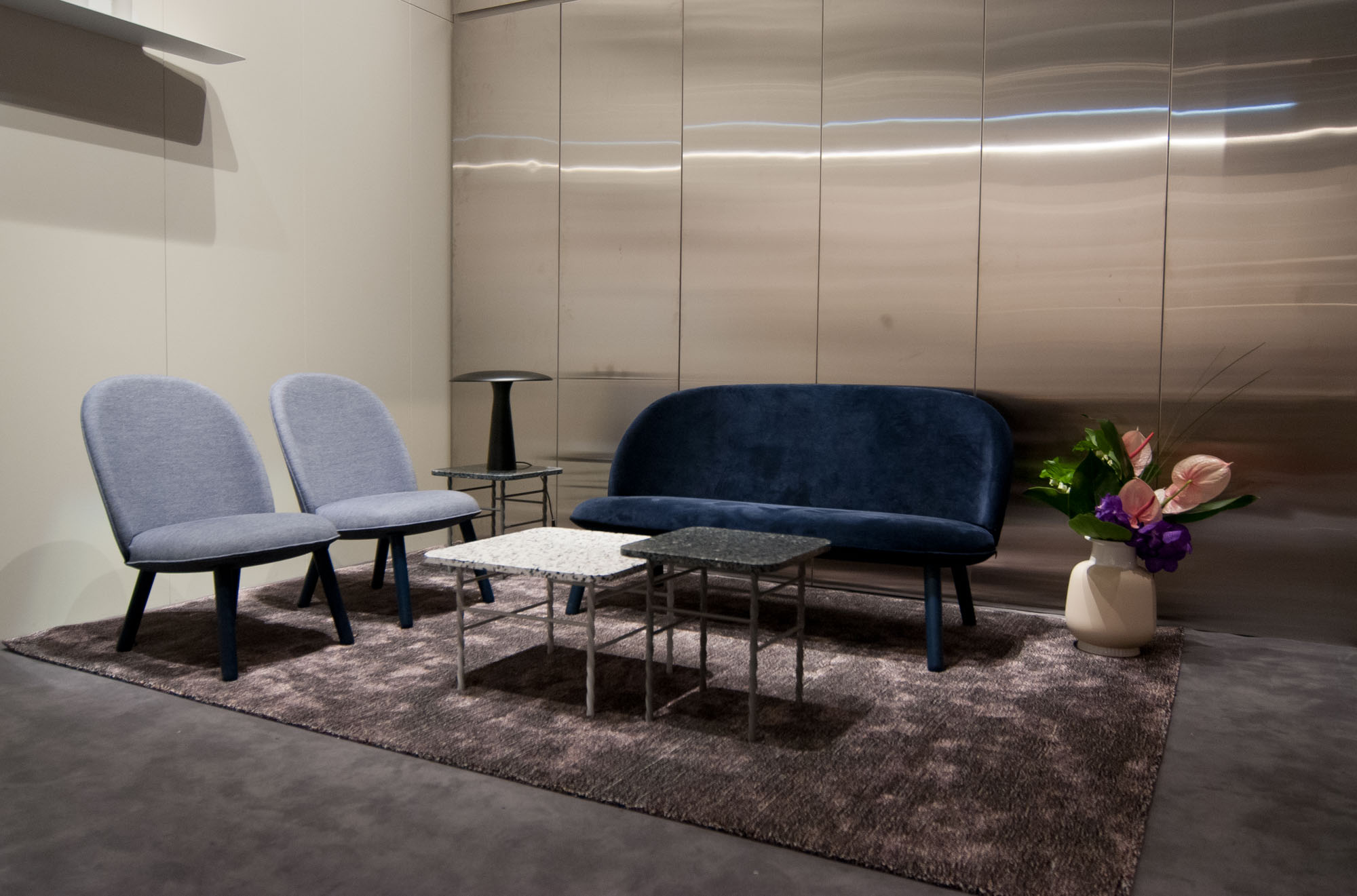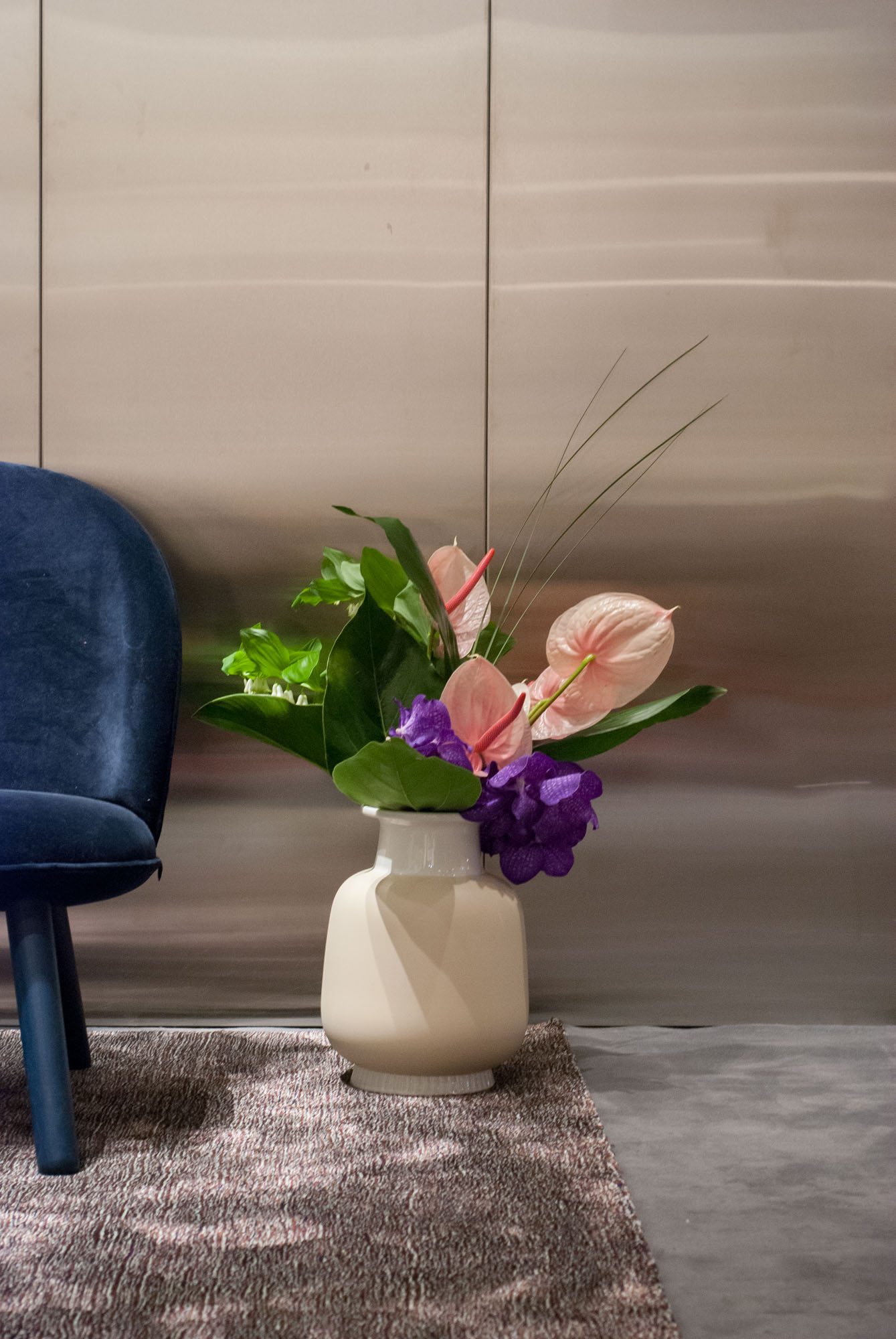 FORM STACKING

Like a pictogram, the fine silhouettes of the stackable Form chairs stand out from the colored walls of the fair stand.

In a gradient from white to black, the new Form coffee tables can be seen in the three available heights: the ordinary table height and two bar table versions in 65cm and 75cm. All three tables are perfectly suited to the Just barstool and Form barstool heights, which come in stackable, as well as non-stackable versions.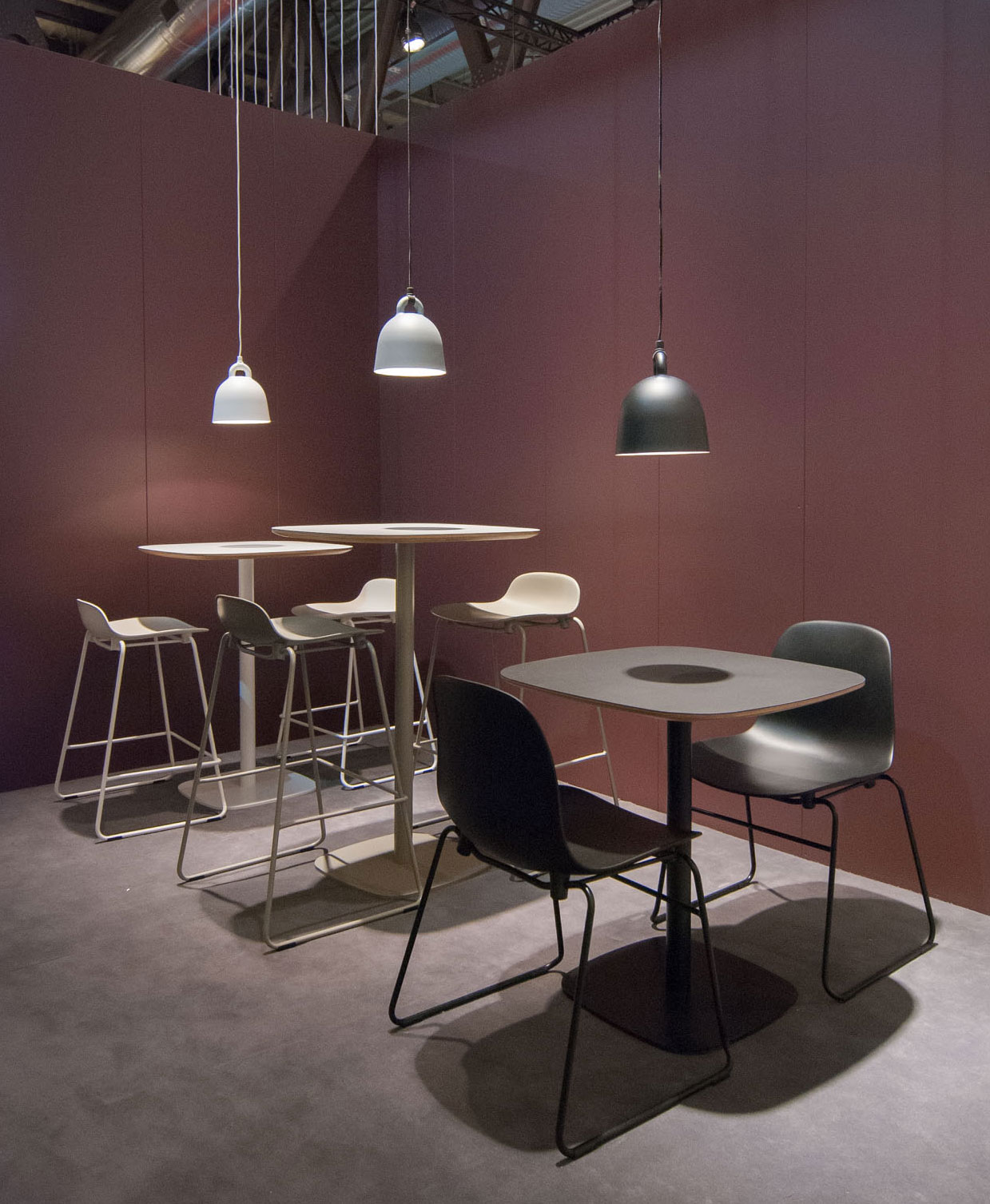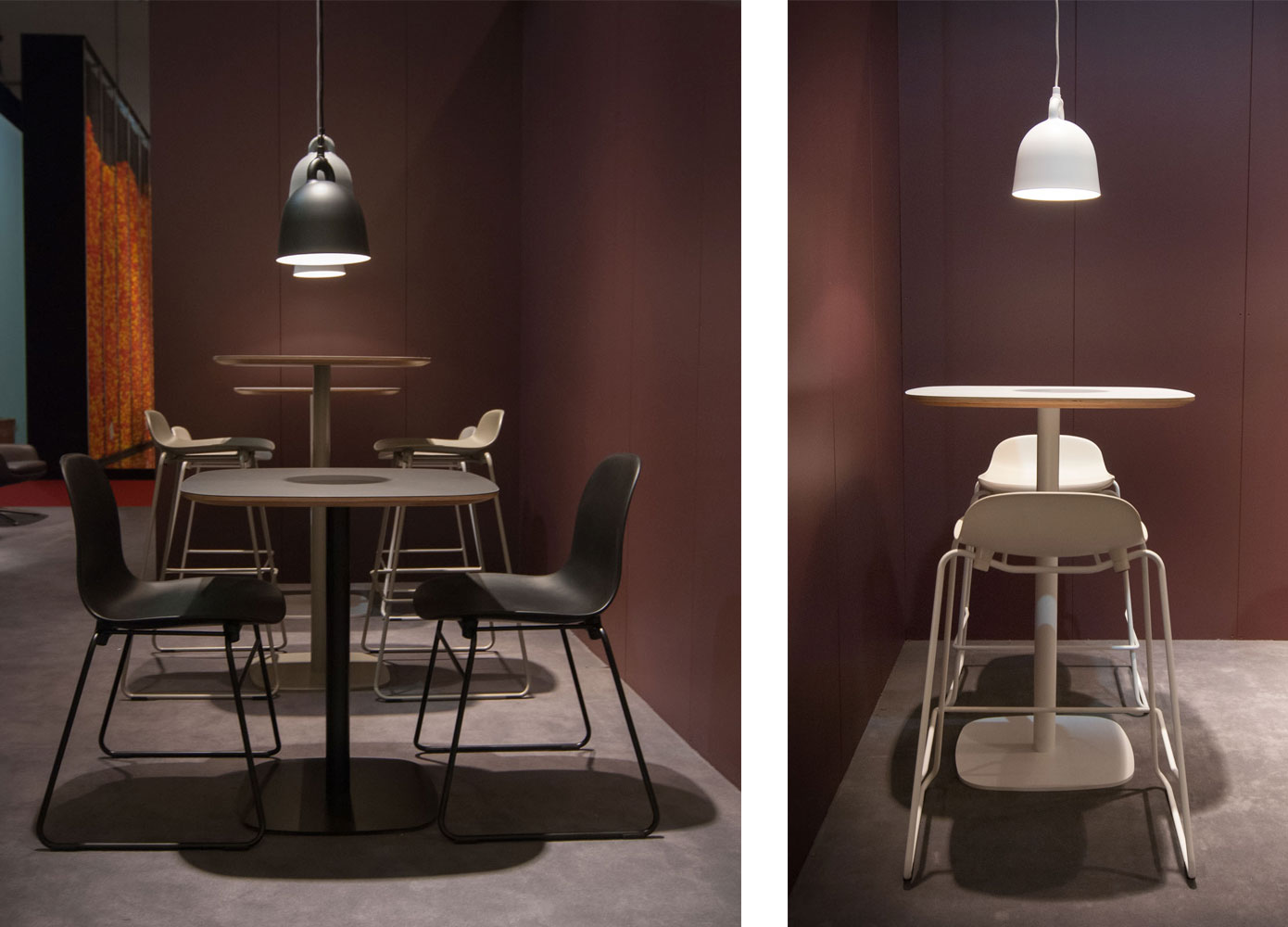 JUST CHAIR

The Just barstool is designed as an extension to the Just chair, and inherits its signature elements: the clearly defined shell shaped as a molded "sandwich" of hard and light veneers as well as the light steel base, which is discreetly integrated in the molded shell, so that the chair naturally comes together as a whole.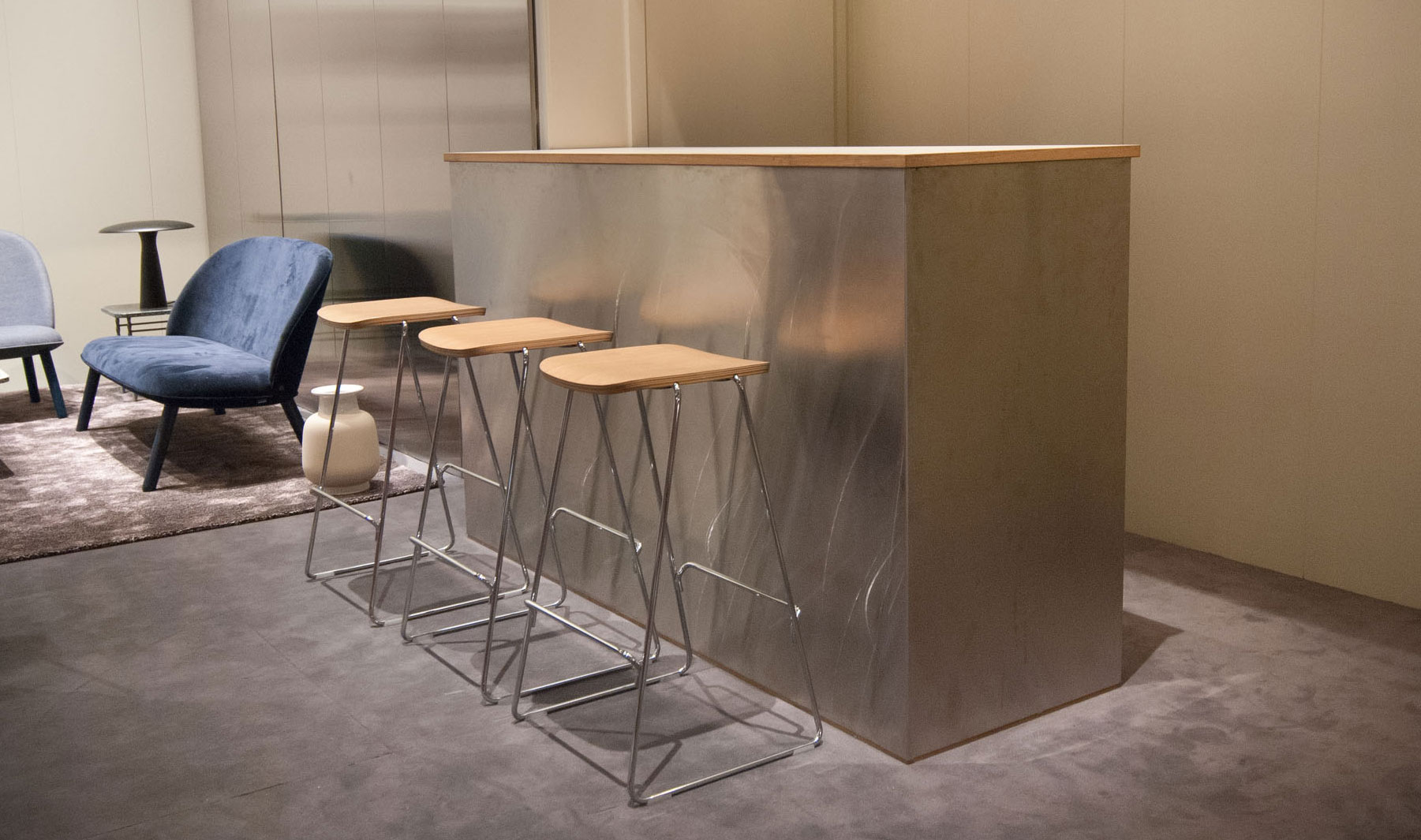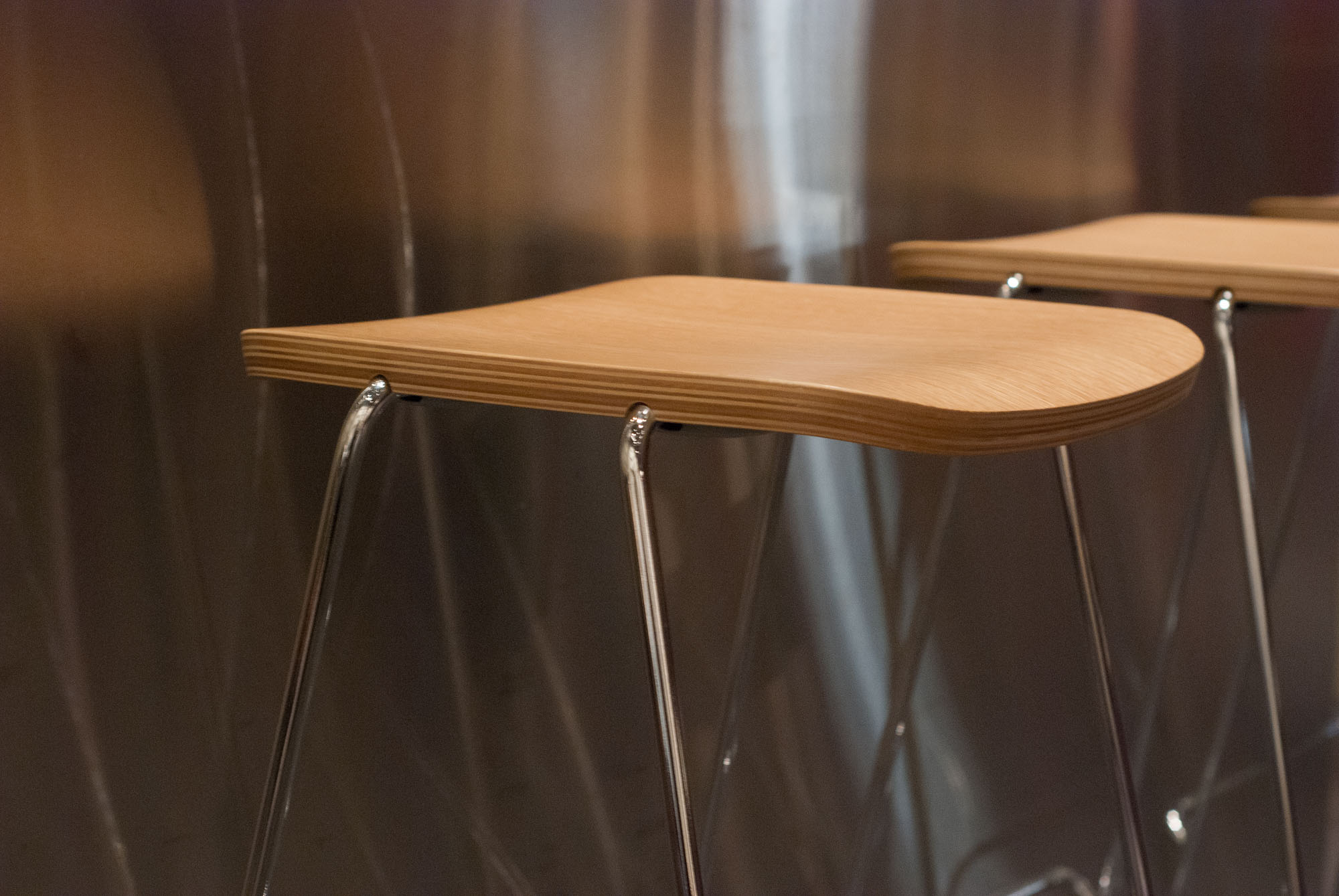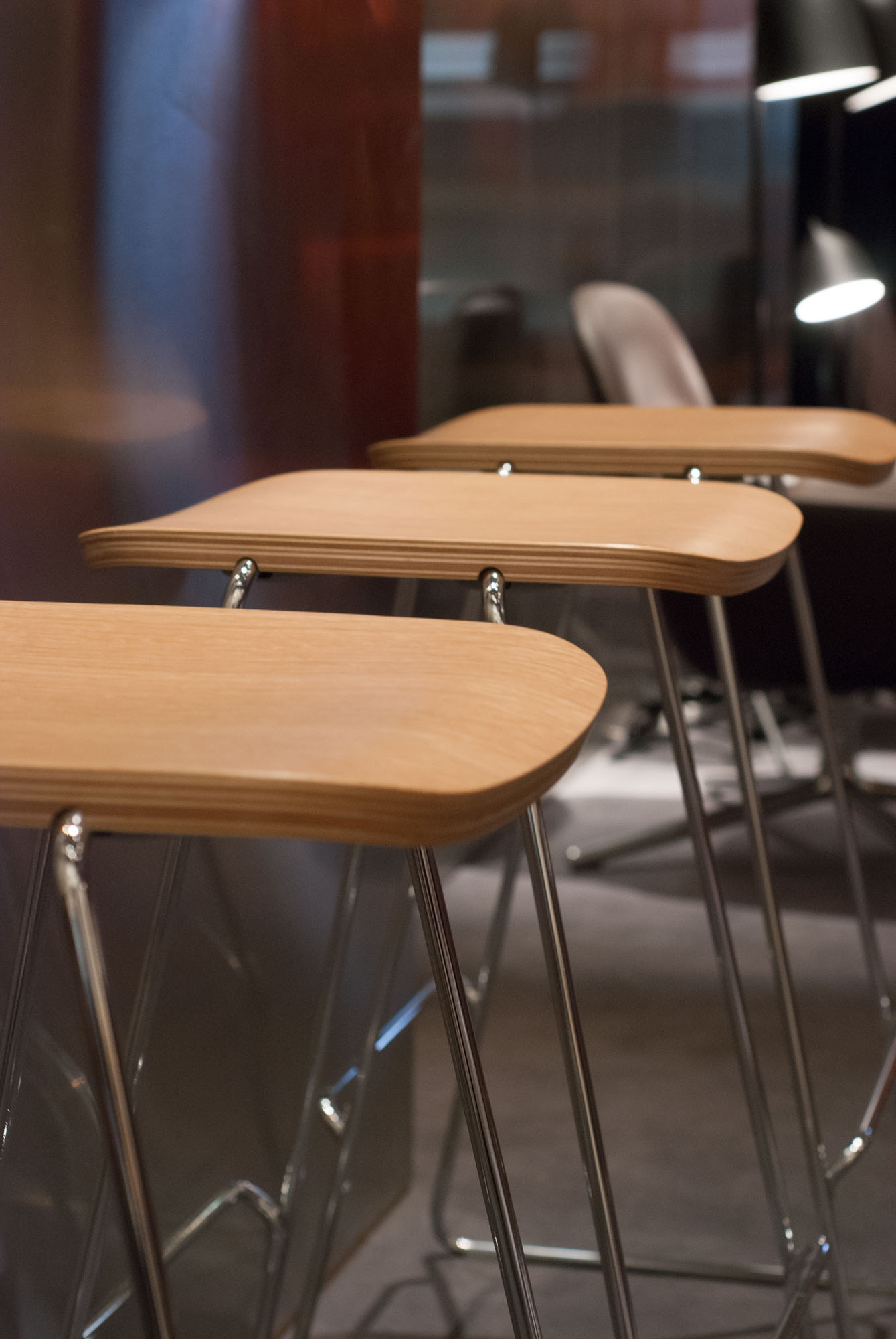 ERA LOUNGE COLLECTION

Around the corner, the Era lounge chairs and Era coffee tables introduce shades of beige to the otherwise elegantly held white and grey nuances.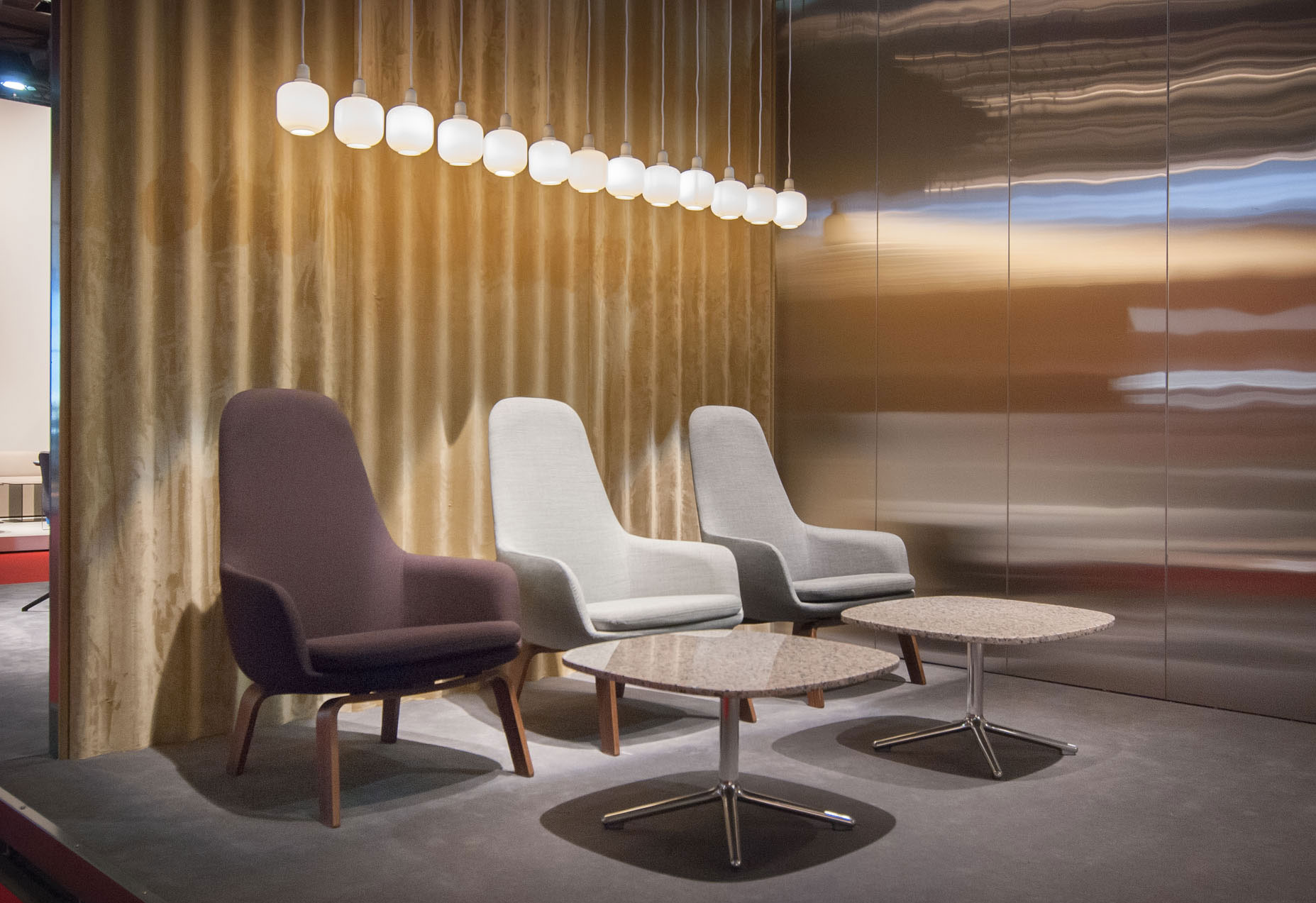 White Amp pendle lamps are hung in a stringent row, forming a clean, graphic contrast to the beige waves of the velour clad wall.

Across, two brown leather Era lounge chairs create an elegant seating environment, softly illuminated by lighting designs of the Italian duo Daniel Debiasi and Federico Sandri.

The floor lamp Stage and table lamp Momento both share a simple and elegant design, which can be seen in their subtle on/off switch and minimalistic appearance, where all unnecessary details have been removed.