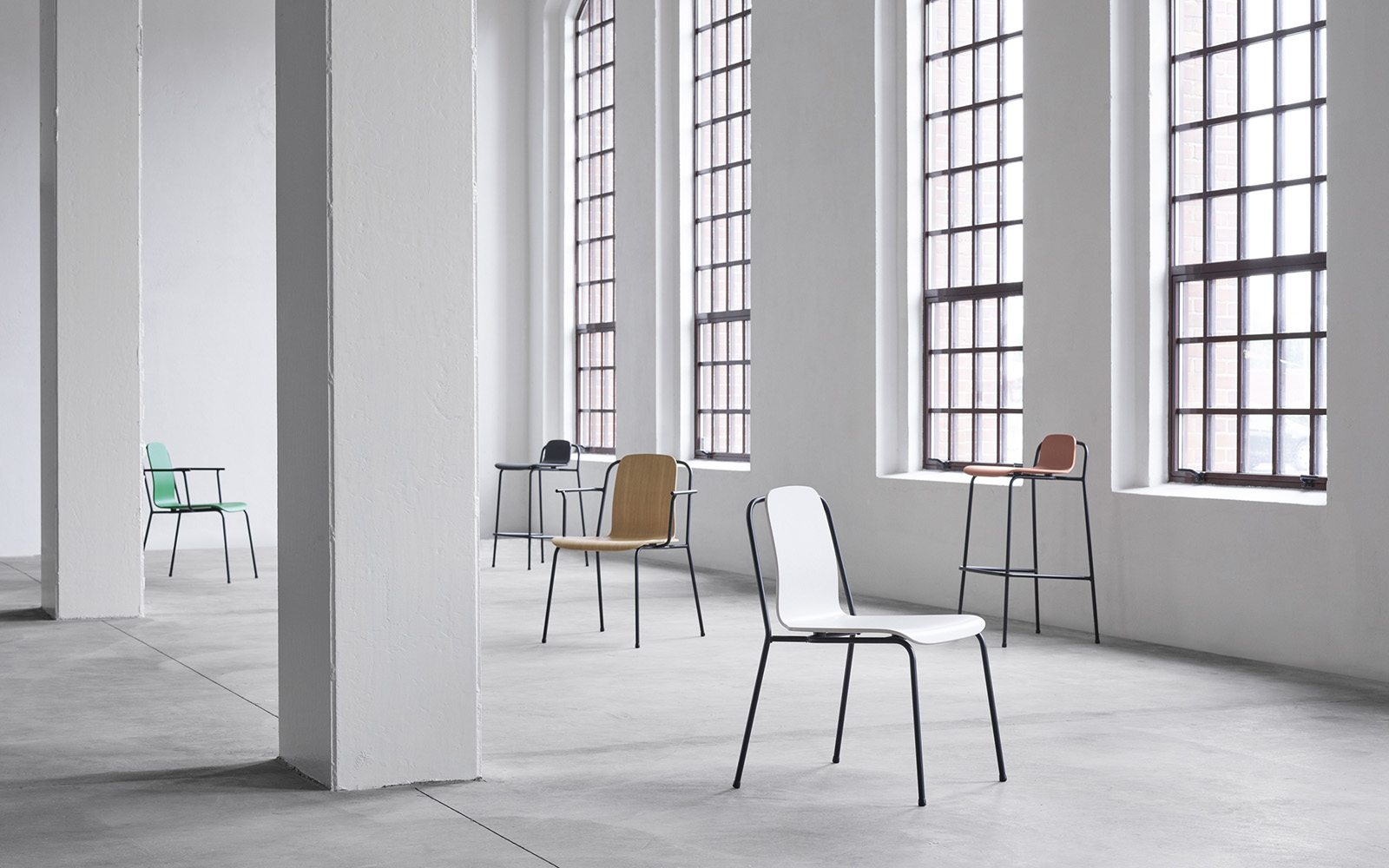 Orgatec 2018
This year's Orgatec fair marks Normann Copenhagen's largest fair stand to date: explore 600m2 of design showcasing our take on modern work and facility spaces with extensive new design series that will have their international debut at the Orgatec fair. We look forward to welcome you in Hall 10.2 at K050/J051.


NEW LAUNCHES

Studio Chair*
Studio (shown above) is a multi-purpose, stackable chair series with references to French industrial design. The series includes chairs, armchairs and barstools in two heights.
*Selected for the Stylepark awards at Orgatec 2018

Silo Pouf
A simple, geometric silhouette and extravagant upholstery characterize the Silo pouf, offering a flexible and decorative addition to furnishings.

Pad Lounge Series
The lounge series attains its special character from the combinations of materials, tactility and shape. Molded shells in oak veneer stand in contrast to a soft padded front, while a metal frame adds strength and airiness.

My Chair - New Additions
The My Chair series unfolds in a new comprehensive portfolio of colors and materials. A new lounge model continues My Chair's characteristic back in a chair with a lower seat height. The series' distinctive design traits are also repeated in the barstool with a high backrest.

Phantom Lamp
The outlines of archetypical chandeliers have served as inspiration for the lamps' dramatic and voluminous silhouettes, which are covered in an ivory veil.

Jam Bookcase
Composed of just three different elements, the Jam bookcase is a cleverly and elegantly executed design. The defining element is a wedge, which allows the bookcase to be assembled without the use of screws or tools.

Form Café Table
Timeless café tables with a centered steel base and wood or marble tabletops complete the Form series' versatile table selection.

Tap Stool - New Additions
The stackable three-legged stools launch in new caramel, sand and all-black shades.
PROGRAMME
The following programme will take place at the Normann Copenhagen stand in Hall 10.2 at K050/J051. We look forward to welcome you!