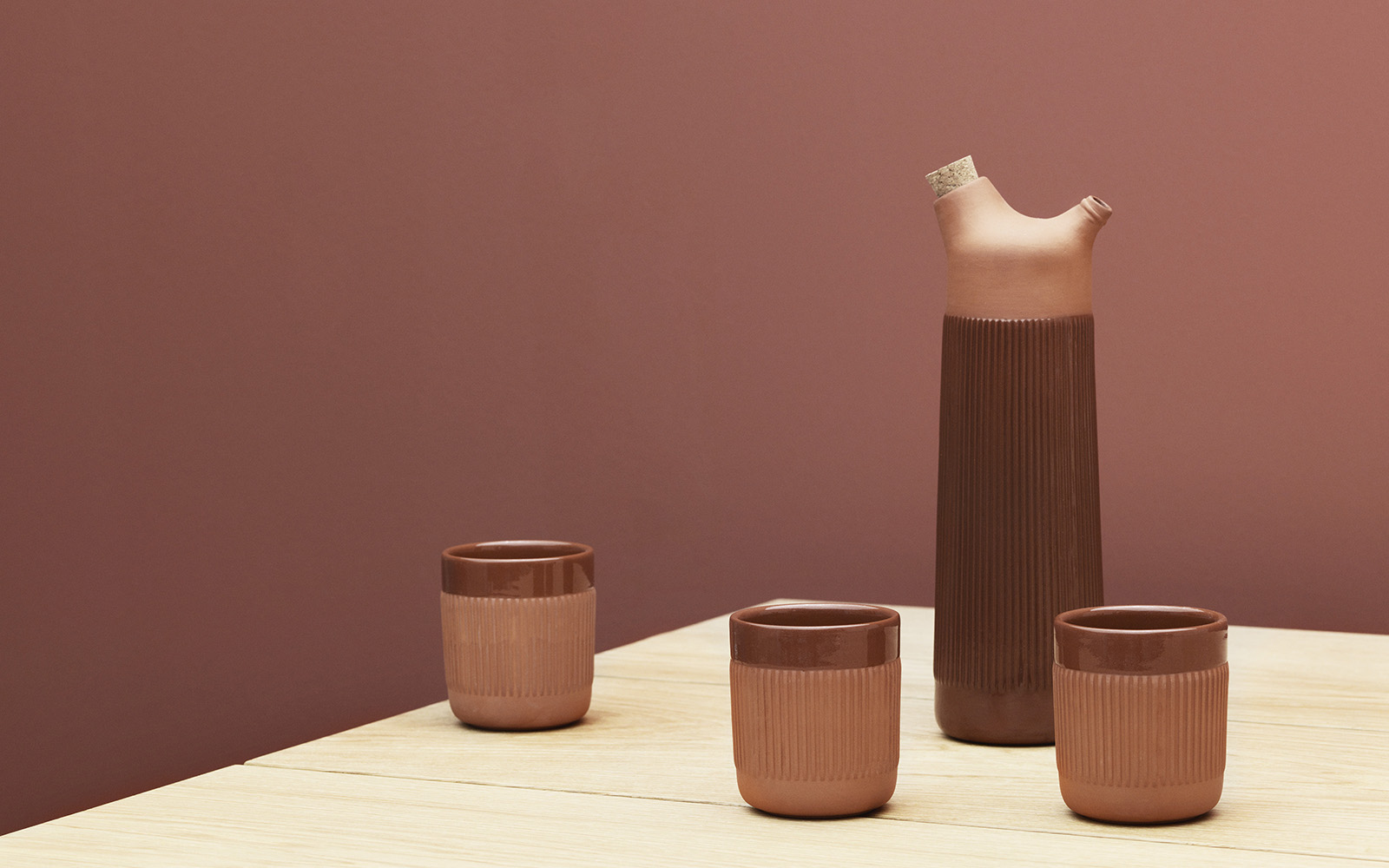 Warming Terracotta
Terracotta - meaning baked earth in Italian, has traditionally been used for porous sculptures and vessels in earthenware, building ornaments and roof tiles. The earthy red color of fired terracotta is one of the trends to watch, bringing depth and glow to a light Scandinavian interior.
Designer Simon Legald has added a new range of design to the trend with the Salon serving trays and Junto carafe & cups. We couldn't think of a more perfect time of year to present these novelties that will bring autumn's natural colors into your interior.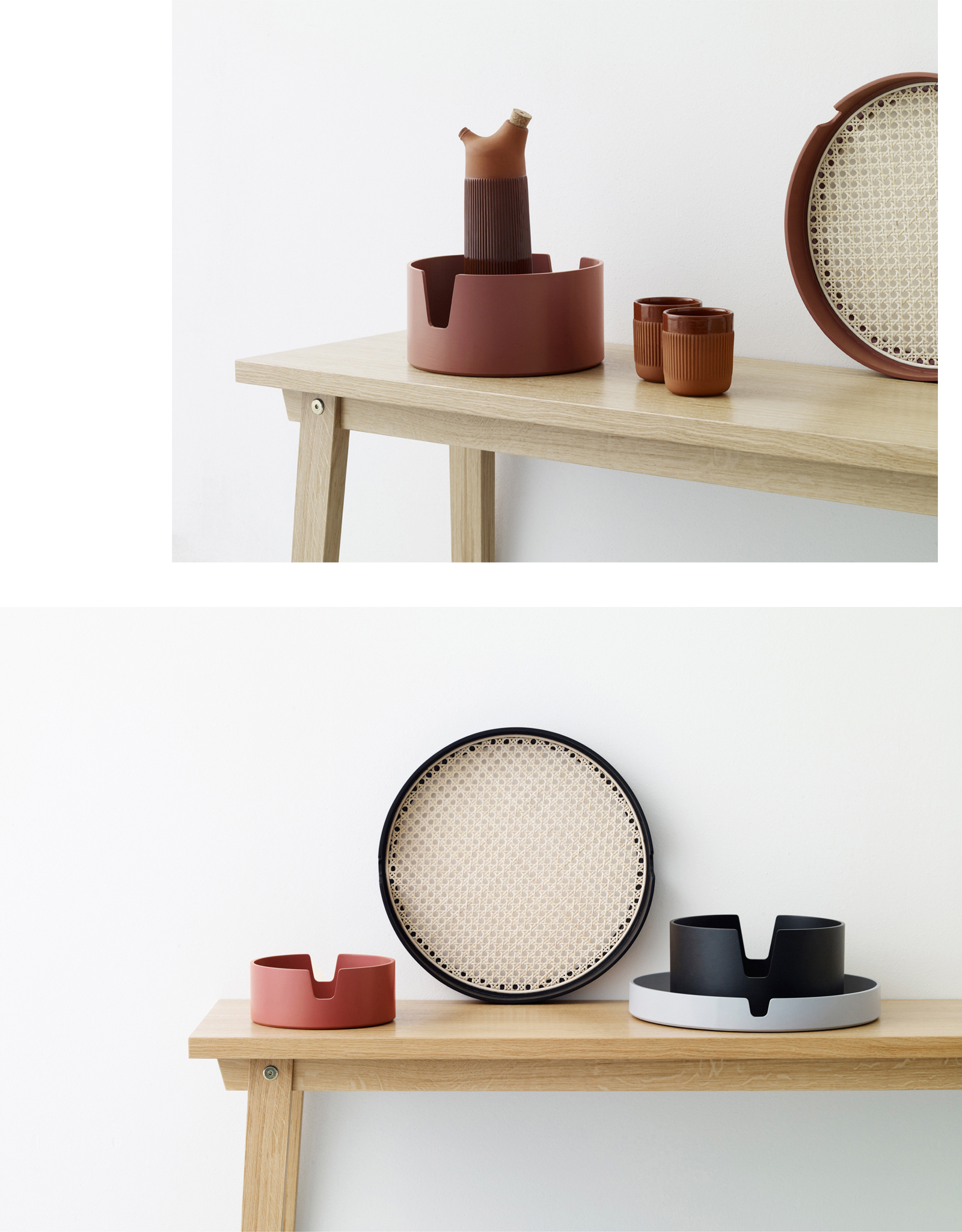 Salon trays on Slice coffee table.
In the design of the Salon tray, the airy French wicker framed by a prominent rim in painted veneer creates a refined clean expression.
The terracotta-toned rust red, warm grey and classic black colors make contemporary contrasts to the classic appearance of the wicker while amplifying the natural elegancy of the trays.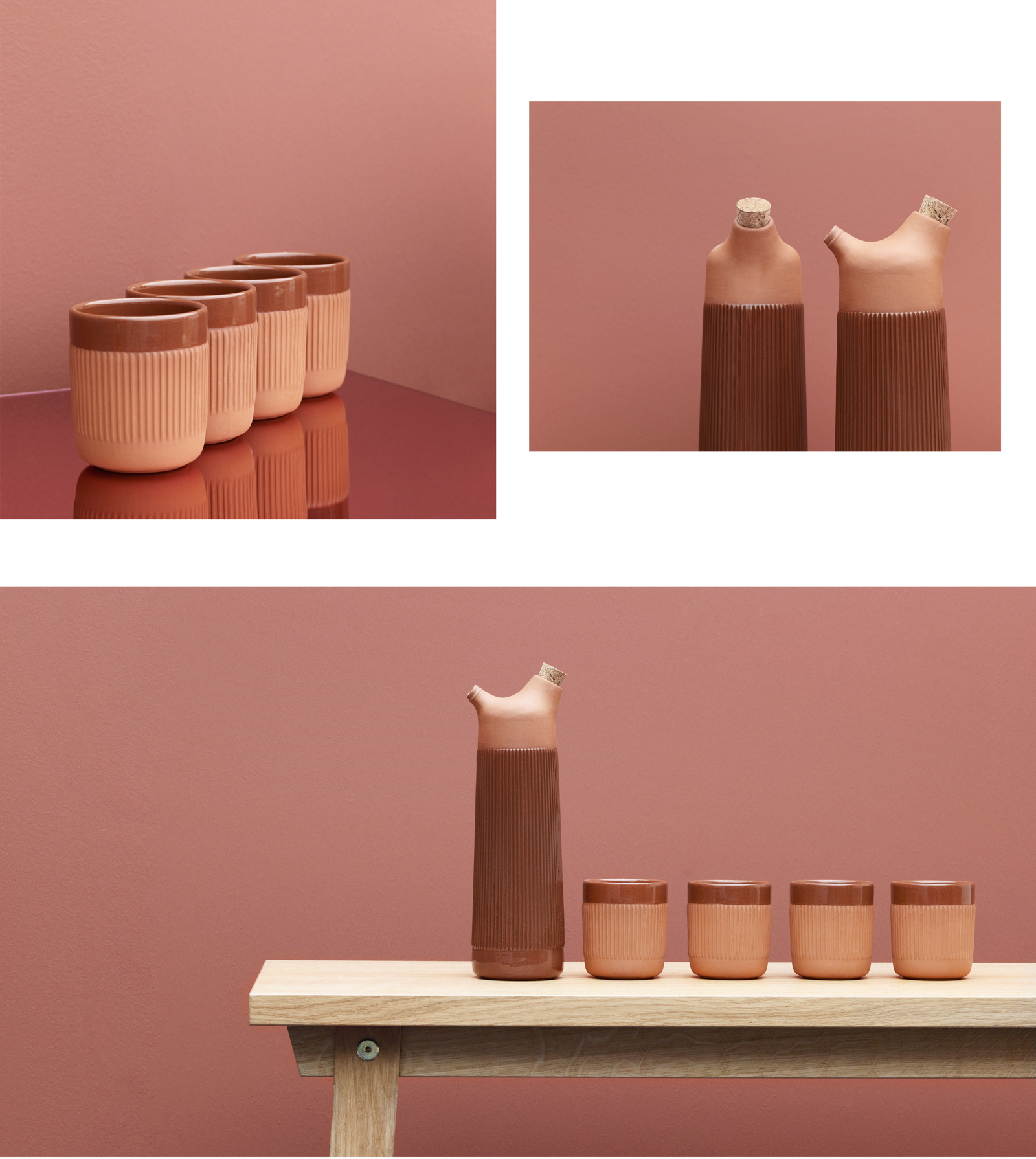 Junto carafe & cups in terracotte on Slice coffee table.
Inspired by traditional Spanish clay-crafted vessels Simon Legald designed the Junto series of cups and carafe in warming terracotta. Junto is designed with a modest approach to the material that lets the beauty of the terracotta stand out.
An aesthetic interplay between the matt and glazed, grooved and smooth surfaces make the terracotta cups and carafe table centerpieces, while adding a mediterranean vibe to your interior.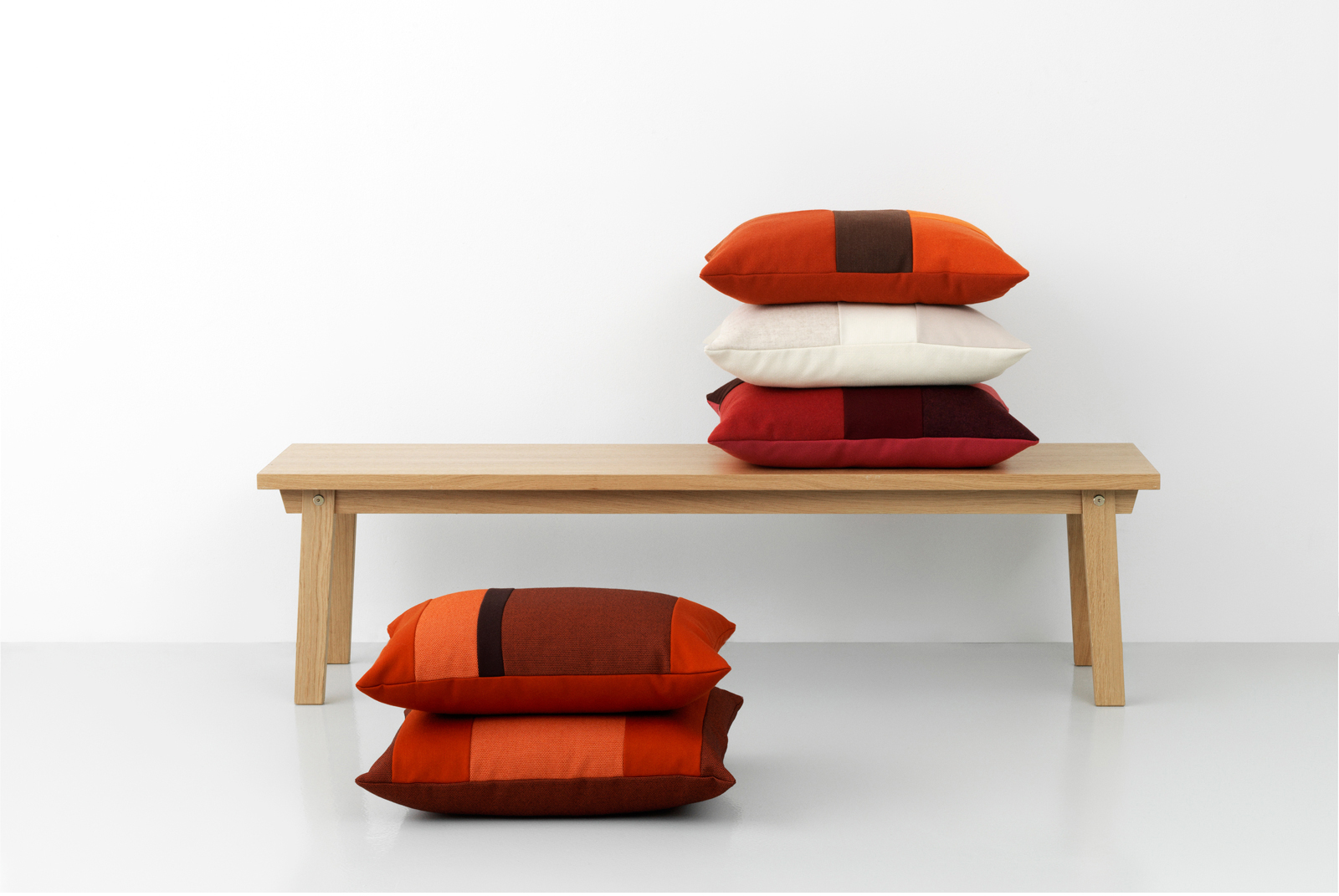 Line cushions & Slice bench.
Their mix of bright and subdued orange hues make the Line cushions a glowing accompaniment to wooden furniture and a minimalistic interior.
Interior accessories in earthy red and orange colors bring ambience to the room creating a cozy atmosphere.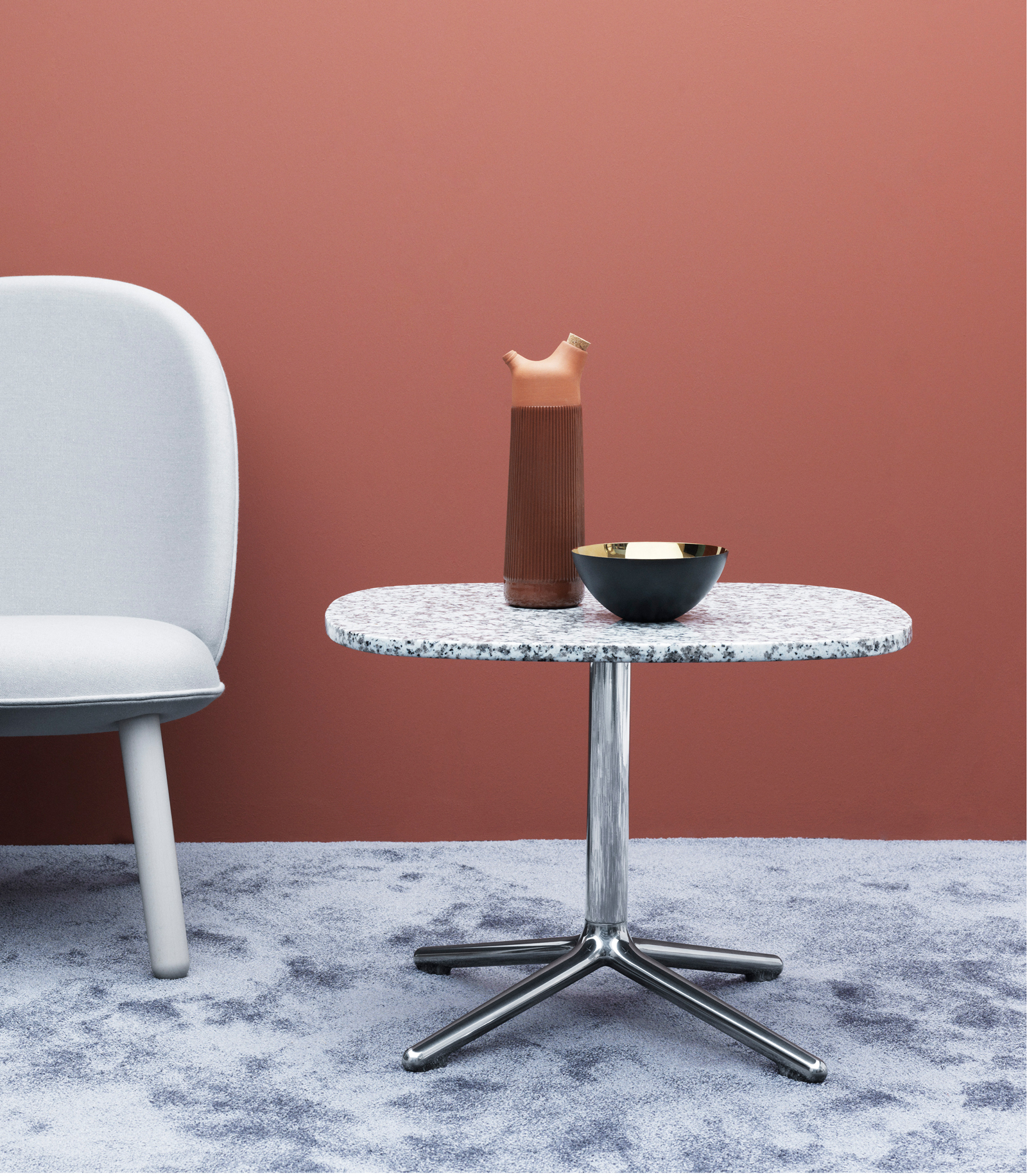 Junto carafe on Era table in granite Ace lounge chair.
Let terracotta-colored walls add extravagance to your room. In stunning combination with pale blue carpet and elegant granite, the terracotta walls accentuate the Junto carafe in burned terracotta.
Cool metallic materials next to terracotta create a visual appeal that combines minimalistic design with timeless craft.
Indulge in soft sumptuous velvet in terracotta-orange tones that will add a refined and warming expression to minimalistic furniture. The Pavilion carpet in pale blue and rust red bamboo silk compliments the color tones of the upholstered Circus poufs.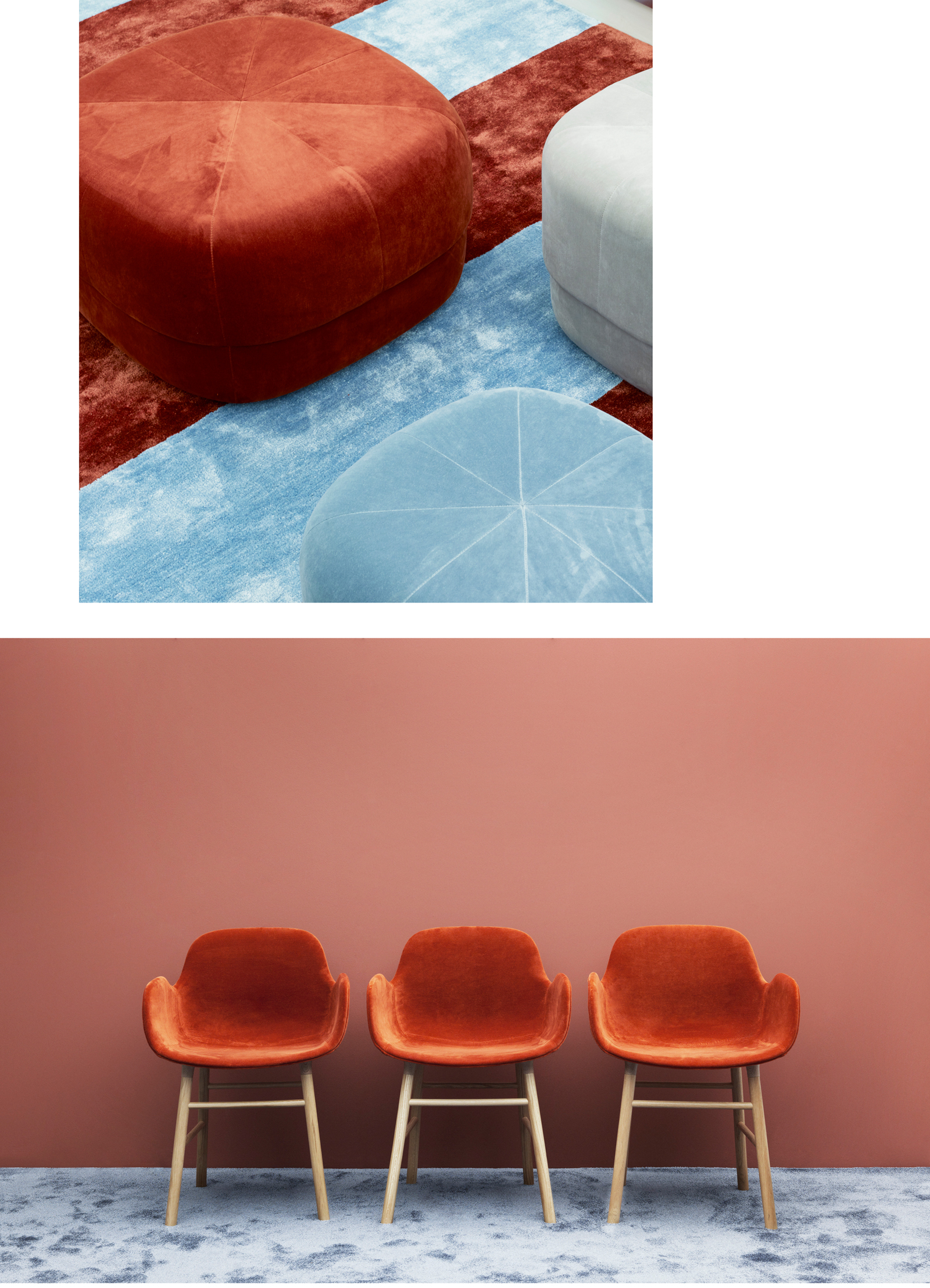 Circus pouf & Pavilion rug
Form upholstered armchair